UP Police arrests Vikas Dubey's main aide, further investigation on
Vikas Dubey's main aide, Dayashankar Agnihotri has been arrested by police during the early hours of Sunday. Search for him is still on.
Kanpur: The incident of Killing of 8 cops in Kanpur by history-sheeter Vikas Dubey has shook the state to its core. During the early hours of Sunday morning, policemen have arrested the main aide of Dubey, Dayashankar Agnihotri. Agnihortri was present when Dubey's men shot 8 police personnel during a decided master plan.
Mohit Agarwal (IG, Kanpur range) on Agnihotri's arrest
"Dayashankar Agnihotri alias Kallu, the main aide of Dubey, has been arrested during an encounter. Agnihotri always use to accompany Dubey and was staying at Dubey's house. (Police already demolished it.)
"Agnihotri was carrying a cash reward of Rs 25,000. He was named accused in the firing incident on the policemen. In the encounter, he got bullet injuries on his leg."
Also read: PM Modi sees President Kovind to discuss various significant issues
Inspector General, Agarwal has also stated that cash reward on Dubey has also increased now. It was earlier Rs 25,000, but now is Rs 1 Lakh. Earlier there were allegations on SO, Vinay Tiwari for alerting the men about encounter of Dubey. But, IG cleared that, there are no evidences against him. If allegations prove to be true, it will result in his detainment.
Police demolished Dubey's house, bunkers found inside home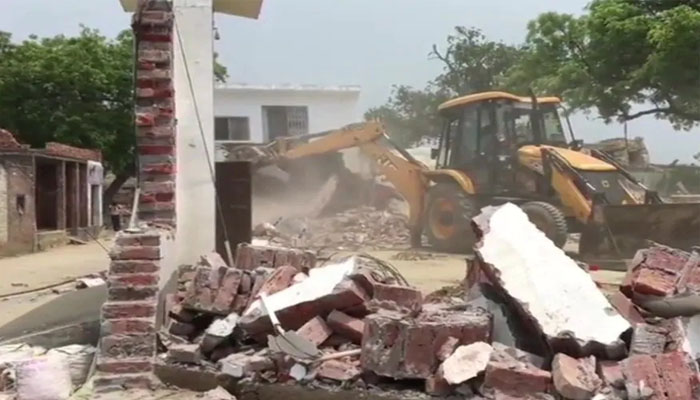 In new turn of events, police also demolished Dubey's house in Kanpur yesterday. Police used the same JCB to blow his house, that was in use against 8 cops who lost their lives. Police also got to know that Vikas used bunkers to hide arms and explosives in home. On the same, IG stated-
"Police had information that Dubey had hidden a lot of arms and ammunition in a bunker. There was also information about him hiding arms and ammunition in the walls of the house. The walls broke in order to search for the weapons. When the walls broke, the roof also collapsed. Large amount of ammunition was recovered in the digging."
Also read: Cricketers express gratitude towards Coaches, Mentors on Guru Purnima