Babri Masjid demolition: All 32 accused have been acquitted
In a short time, the decision of the Babri demolition is coming. On which the eyes of the whole nation are set. Today is the very important day after 28 years from the political point of view
New Delhi: In a short time, the decision of the Babri demolition is coming. On which the eyes of the whole nation are set. Today is the very important day after 28 years from the political point of view, where the special court of CBI will give its verdict in the disputed structure demolition case. At the same time, the court will hear the illegal construction in the disputed Sri Krishna Janmabhoomi in Mathura.
Babri Masjid demolition case: All the 32 accused have been acquitted. Demolition was not 'pre-planned', observes the court.
Verdict on Babri Masjid Demolition:
After the demolition of the Babri structure in Ayodhya on 6 December 1992, several prominent leaders Murali Manohar Joshi, LK Advani, Kalyan Singh, Vinay Katiyar and Uma Bharti were involved in the case.
ALSO READ: Supreme Court should take cognizance of Hathras Rape Case: Mayawati
FIRs against Journalists and Politicians:
In the Babri demolition case, 49 FIRs were filed. One FIR was lodged in the Ram Janmabhoomi police station of Ayodhya by SO Priyavanda Nath Shukla while the other FIR was lodged by SI Ganga Prasad Tiwari. The remaining 47 FIRs were also filed by journalists and photographers. On October 5, 1993, a charge sheet was filed against a total of 49 accused in the case. Since then, it was continuously being heard.
The court has asked all accused to be in court on the day of judgment. But many accused LK Advani, Joshi, Nrityagopal Das will not be present due to health reasons. In this case, 49 people including senior BJP leaders LK Advani, Murali Manohar Joshi and Uma Bharti have been charged.
ALSO READ: 'You are accountable for safety of women in UP': Priyanka hits out at CM Adityanath
In this long lawsuit, CBI filed its charge sheet against 49 accused, in which 17 accused have died. Prominent among these are Bala Saheb Thackeray, Ashok Singhal, Giriraj Kishore, Vishnu Hari Dalmia etc.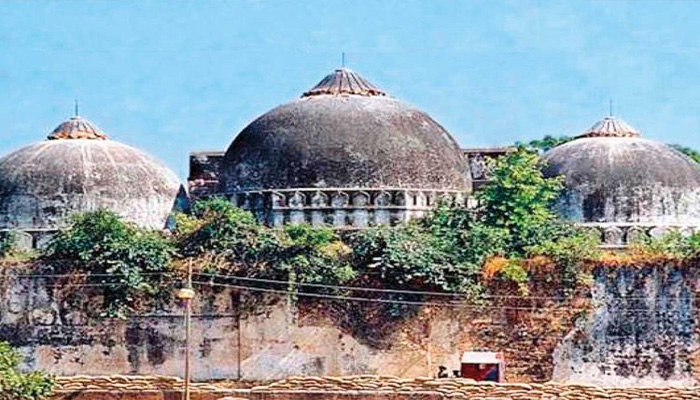 On the other hand, the hearing on the petition filed for the ownership of Sri Krishna Janmabhoomi in Mathura will start from today. In this case, there has been a demand from Shri Krishna Virajaman, and many others to take back this land.
49 people in the list :
Of the 49 people charged in the Babri demolition case, which came on Wednesday after 28 years, 32 will be pronounced against the accused, while 17 people have died during the long trial in the case. In such a situation, everyone's eyes are on this biggest decision in the country, in which decisions are to be taken on several MPs and saints including senior BJP leaders LK Advani, Murali Manohar Joshi, Uma Bharti, Kalyan Singh and Shiv Sena leaders.
ALSO READ: Hathras Gang Rape: Police forcefully took the body to cremation ground
Stay tuned with the newstrack to get fastest updates. Click @englishnewstrack to follow us on Facebook and @newstrackmedia to follow on Twitter.