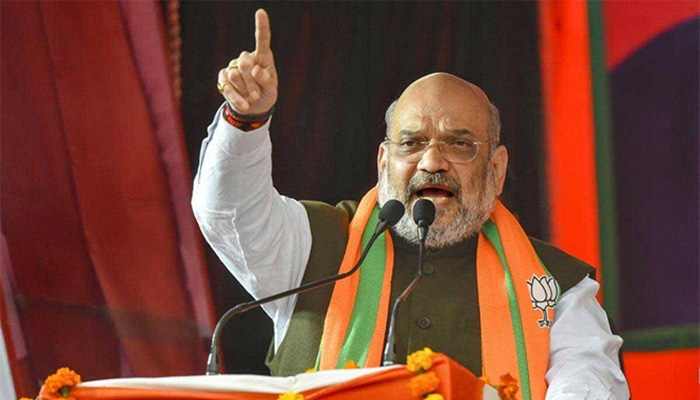 Amit Shah (PC: Social Media)
New Delhi: Union Home Minister Amit Shah on Sunday while addressing a public meeting in Kokrajhar in Assam, targeted the Congress party fiercely.
Home Minister Shah said, "The Congress party which could not bring peace, development during its tenure, is advising us today. Assam remained blood-stained for so many years, the Bodo region remained blood-stained, what did you do? Whatever the BJP government did.
Amit Shah in Assam:
The Home Minister said, "Today, the BJP government has started giving the financial assistance of Rs 4 lakh to all the refugees who have surrendered, through checks."
We will fulfill the vision of development of the North-East. Let me tell you that Vidhan Sabha elections are going to be held in Assam this year and due to this the visit of Amit Shah is considered very important.
BJP secured Assam's culture: Home Minister
Counting the achievements of his government, Amit Shah said, 'Just a year before today, the Bodo Peace Agreement was signed under the leadership of the Prime Minister of the country and with the Bodo Peace Agreement, the Prime Minister gave the message that wherever there is unrest in the North East, Talk there and pave the way for peace. '
He said, 'Over the years the problem has killed more than 5000 people, due to Modi ji's determination, guidance and the initiative of our Pramod ji, this problem has calmed down today and our Bodo region for many years to come. Will keep moving forward on the path of progress.
Amit Shah did not stop this but said further that 'BJP has won the semi-finals in Assam and now the final is yet to be won.
Stay tuned with the newstrack to get fastest updates. Click @englishnewstrack to follow us on Facebook and @newstrackmedia to follow on Twitter.
Keep yourself updated with latest news through Newstrack App. To download App from Google Playstore visit here - Newstrack App