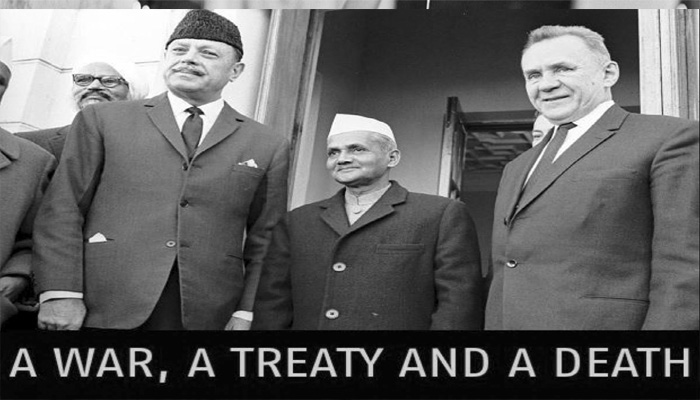 Mystery of Shastri's death: Why wasn't his body forensically examined?
Lucknow: Lal Bahadur Shastri's death is seen as mystery for us that has not been solved yet.
India's second Prime Minister, was mired in controversies since right from the the time his body arrived to Delhi. Hours after his demise in Tashkent early morning on January 11, 1966.
ALSO READ: BJP should first pursue path of truth and then talk about Gandhi: Priyanka
At airport family members of Shastri were prevented from taking a look at the body. But when they eventually saw it, they were horrified. Shastri's wife Lalita said, his body was totally blue, even though the PM had been dead barely for few hours. There were also some whit patches on the face.
Lalita Shastri recalled:" We were not allowed to go near it even the dead body was being bathed. It was only after much insistence that we were allowed. Shastri ji's body and face were swollen, the body was so bloated that the vest had to be torn off to pull kurta out of body. Later when people pointed to the spots on his body, quickly brought sandal paste was
smeared into the whole face but the spots could not be hidden in spite of the sandal coating.
There were certain cut marks noticed in the stomach area and back of his neck.
ALSO READ: Mumbai suburban train services hit as coach derails

After four hours of his death an official explanation was given that the cut in the stomach was made for introducing the embalming fluid in the body. The existence of any cut on neck was denied, despite the family members who clearly saw the cut. there is no reason why should they be disbelieved.
Jagdish Kodesia, former Delhi congress chief and Shastri ji's follower told "we saw a cut at the back of the neck and a cut the stomach where sticking plaster has been pasted to block the outflow. But the cut at the neck was laeking blood and the sheets, pillows and the clothes used by him were all soaked in it. we approached the leadership with the request such as this would adversely affect international relations."
ALSO READ:Bihar rain: Toll rises to 42, rescue operations intensified
ALSO READ:Shops in Srinagar open in morning hours, normal life remains disrupted
The chance to solve this mystery was lost, since postmortem was never conducted. Dr. Ajay Kumar Gupta, a reputed pathologist who served as the head of the Department of Forensic Medicine at both Calcutta Medical College and Calcutta National Medical college, stated that it is not possible to decipher the actual reason of sudden death, and it's under a highly suspicious circumstances in a foreign country. But a strong suspicious arises that it may be a case of poisoning, only by detailed medico-legal postmortem examination.
Second expert Dr. Soumya Chakraborty, an anatomist and embalming expert said that " Bluish discoloration means reduced hemoglobin, which further indicates either poising or asphyxial death."
ALSO READ: Must watch movies of Gandhi's struggle for the independence of India
Dr Sayan Biswas, MD in forensic medicine and toxicology also did not rule out poisoning. He too underlined that in cases of a sudden death, it is mandatory to perform an autopsy.
"According to the World Health Organisation (WHO), 'Death is said to be sudden or unexpected when a person not known to have been suffering from any dangerous disease, injury or poisoning is found dead or dies within 24 hours after the onset of terminal illness'. In India, it is mandatory to perform an autopsy upon any death falling under the provisions of inquest as per Sections 174 and 176 of the Code of Criminal Procedure (CrPC), 1973, and so on. There are even provisions of exhumations and second autopsy too."
ALSO READ: Arunachal Pradesh: 3 districts declared 'disturbed' by govt for 6 more months
Dr Nirmalya Roychowdhury, a member of American Board of Internal Medicine, told that an "ideal homicidal poison" is one that can "simulate the signs and symptoms of a natural disease and also which can hardly be found in autopsy or even in putrefaction".
In 1966, authorities in India Why didn't come forward to take any action? Health Minister Sushila Nayyar, an eminent doctor and Mahatma Gandhi's close aide, took any action? None of the official responses offer any credible explanation.
ALSO READ:Iran not disappointed with India for not importing oil from Tehran: Jaishankar
Keep yourself updated with latest news through Newstrack App. To download App from Google Playstore visit here - Newstrack App