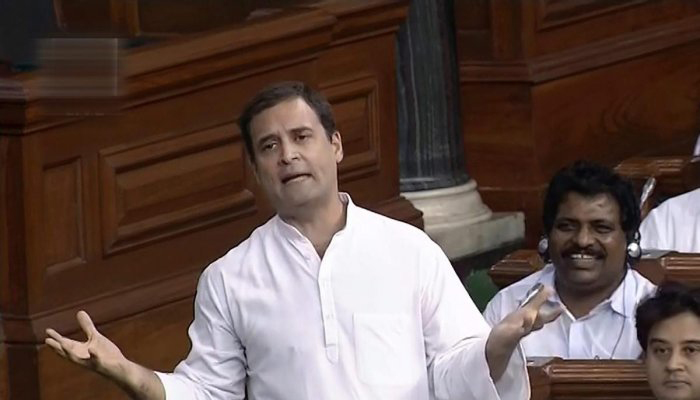 Rahul Gandhi targets PM Modi (PC: Social Media)
Lucknow: Farmers have been agitating against the new agricultural laws for the last few days. The farmers say that they are ready to negotiate with the government but will not accept any condition. At the same time, this movement has the full support of the opposition parties. Meanwhile, Rahul and Priyanka Gandhi have attacked the central government. Congress General Secretary Priyanka Gandhi says that the government will have to listen to the farmers.
मोदी सरकार ने किसान पर अत्याचार किए- पहले काले क़ानून फिर चलाए डंडे लेकिन वो भूल गए कि जब किसान आवाज़ उठाता है तो उसकी आवाज़ पूरे देश में गूंजती है।

किसान भाई-बहनों के साथ हो रहे शोषण के ख़िलाफ़ आप भी #SpeakUpForFarmers campaign के माध्यम से जुड़िए। pic.twitter.com/tJ8bry6QWi

— Rahul Gandhi (@RahulGandhi) November 30, 2020
Modi govt opposed the farmers: RAGA
Wayanad MP Rahul Gandhi on Monday tweeted, 'Modi government oppressed the farmer – first black laws were re-enacted, but he forgot that when the farmer raises his voice, his voice resonates throughout the country. Join us through the Speak Up for Farmers campaign against exploitation with farmer brothers and sisters.
Priyanka Gandhi Vadra said, 'Name farmers law but all the benefit of billionaire friends. How can farmer laws be made without talking to farmers? How can the interests of farmers be ignored in them? The government has to listen to the farmers. Let us raise our voices together in support of farmers. With his tweet, he used the Speak Up for Farmers campaign hashtag.
Earlier on Saturday, Rahul Gandhi targeted the central government by sharing a picture. In the picture, a young elderly farmer is seen running poles. Sharing the picture, Rahul wrote, 'Very sad photo. Our slogan was 'Jai Jawan Jai Kisan' but today Prime Minister Modi's arrogance made the jawan stand against the farmer. it's very dangerous.'
At the same time, representatives of the All India Kisan Sangharsh Coordination Committee said, if the government is serious about the demands of the farmers, then it should talk. Joginder Singh, president of the Bharatiya Kisan Ekta Griha, said, "We will not withdraw from the border." We demand that the government withdraw the agricultural laws. We accept nothing less than this.
Stay tuned with the newstrack to get fastest updates. Click @englishnewstrack to follow us on Facebook and @newstrackmedia to follow on twitter.
Keep yourself updated with latest news through Newstrack App. To download App from Google Playstore visit here - Newstrack App