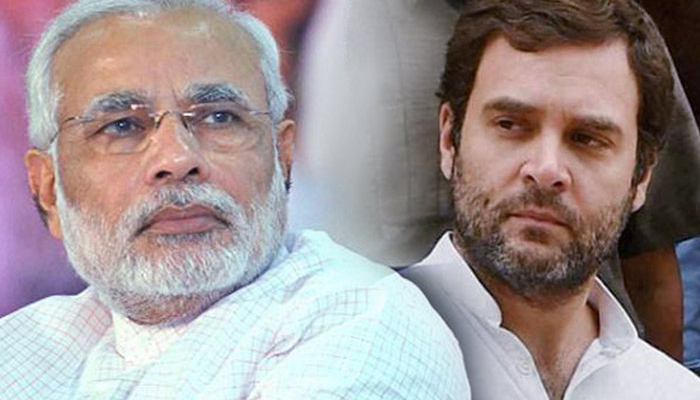 PM Modi and Rahul Gandhi (PC: Social Media)
New Delhi: Congress leader Rahul Gandhi has once again castigated Prime Minister Narendra Modi for accepting the demands of the farmers. Rahul has tweeted and said, "The Prime Minister should have remembered whenever the ego collides with the truth, it is defeated."
'No government in the world can stop the farmers fighting the battle for truth. Modi government will have to accept the demands of the farmers and black laws will have to be withdrawn. this is only the beginning!', Rahul tweets.
PM को याद रखना चाहिए था जब-जब अहंकार सच्चाई से टकराता है, पराजित होता है।

सच्चाई की लड़ाई लड़ रहे किसानों को दुनिया की कोई सरकार नहीं रोक सकती।

मोदी सरकार को किसानों की माँगें माननी ही होंगी और काले क़ानून वापस लेने होंगे।

ये तो बस शुरुआत है!#IamWithFarmers

— Rahul Gandhi (@RahulGandhi) November 27, 2020
Rahul Gandhi attacks on PM Modi:
Earlier on Thursday, former Congress president Rahul Gandhi had claimed against the backdrop of the farmers 'Delhi Chalo' march against the central agricultural laws that all the farmers of the country stood firmly against the 'cruelty' of the central government. He targeted the government by sharing a video on Twitter of water splashing on farmers trying to reach Delhi.
The Congress leader tweeted a poem, 'It is not yet dawn, the redness of the east, the farmer left the cot before the birds woke up, the thundering clouds of black laws, the lightning of injustice shining, The torrential rain pours in the water, it does not stop… Rahul Gandhi claimed, "Farmer of the country stands firmly against the brutality of Modi government"
Farmers adamant on going to Delhi
On the Indus border, Delhi Police interacted with the farmers on Friday. The police requested the farmers to return and told them not to violate the Corona rules, but the farmers did not agree and were adamant on going to Delhi. The farmers said that we will go to Delhi at any cost. The government is not listening to us and we will stop at the Ramlila ground in Delhi.
Stay tuned with the newstrack to get fastest updates. Click @englishnewstrack to follow us on Facebook and @newstrackmedia to follow on Twitter.
Keep yourself updated with latest news through Newstrack App. To download App from Google Playstore visit here - Newstrack App