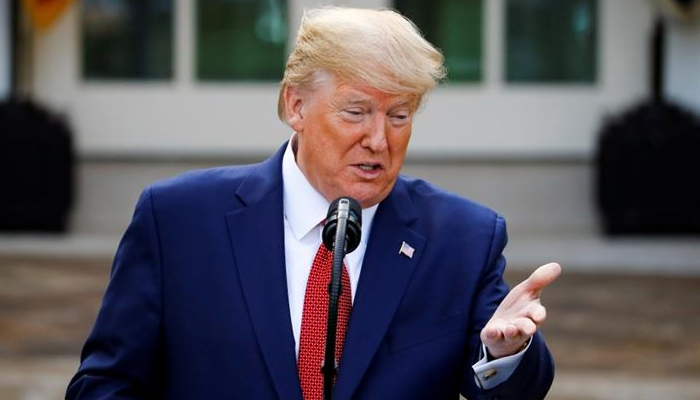 Donald Trump (File Photo)
Neel Mani Lal
Lucknow: The world is watching keenly the most exciting, hard-fought and controversial election ever held in the United States. This election has tested the democratic system of the super power of the world, but at the same time, it has created new definitions, traditions and controversies.
It is a fact that the time of globalization has shrunk. The period of Patrioticism has also ended and the new phase is that of Nationalism. In this new era, every leader who talks only about his fellow countrymen and his nation is a winner. Donald Trump is such a leader who talks only about his country and his fellow countrymen. This is what keeps him ahead. And this applies to all leaders who talk about nationalism.
In comparison, Trump's closest rival Joe Biden, a staunch liberal, has no such opportunity to prove his nationalism. Biden and his Democratic Party talk of socialism, while Trump has shown the picture of Nationalism. He talks about America and his favorite slogan is Make America Great Again. Ronald Reagan had coined this slogan in his campaigns in the eighties. Like Reagan, Trump is not a career politician and is an outsider in the political circle.
Trump has been saying in his rallies that whether you love me or hate me, you have to vote for me. And this is what has happened. His supporters just love him and they believe only Trump can do wonders.
Support of Indians
The US has a large Indian population and they play an important role in the presidential elections. The Indian diasporas are supporting Trump because of his policies. In 2016, about 14 per cent of Indians were in support of Trump but this time it is 22 per cent.
In the last presidential debate, while referring to the issue of pollution, Trump had said that India's air was 'filthy'. Such statements may have offended the Indian diasporas but it might not have changed their support.
America has a large number of Sikhs who staunchly support Donald Trump. This is due to Trump's aid package to small and medium entrepreneurs in the Covid-19 era. In addition to this package, Trump's policies have helped small businesses a lot.
On the other hand, Biden's relationship with India is not very close. His vice-presidential nominee Kamala Harris may prove to be one of the major reasons for Biden's defeat. The reason is her anti-India and pro-Pakistan stance. The votes of people of Pakistan origin do not matter in the US elections, whereas the votes of Indian people always prevail.
Nationalist policies
In politics, there are usually two types of issues – livelihood and national pride. Livelihood is not a major issue in the political fight in America. But the issue of pride, the national pride matters a lot. This is an issue of supremacy with which every American is involved.
Interestingly, the fight of national pride is a notional one. Nothing much is needed to create hype or a nationalistic fervor among the populace. Trump has taken the issue of national pride and American supremacy to new heights. This has become a key issue as China is trying very hard to displace USA as the super power. The way Donald Trump has taken strategic and diplomatic decisions in regard to China; he has won the hearts of the American people.
Trump may not have done anything in his entire tenure, but he has fought America's fight for supremacy and pride to the hilt and in this battle, Trump has already won.
Long fight ahead
Whatever the outcome of America's election, it is for sure that no candidate will easily accept defeat and the matter will go to the courts. For this, both the sides have made elaborate preparations. They have already hired a battery of lawyers.
It is true that people in America never had experienced such a large scale electoral dispute; there have never been such situations in the past. This time the biggest problem is that the Democrats and its supporting media have very subtly sowed the seeds of suspicion among the voter that Trump can only win by electoral fraud. Such a maligning campaign was never seen before and unfortunately the American media has been completely biased and partisan in its approach.
Way to victory
Opinion Polls have been saying that Democratic candidate Joe Biden has an upper hand. The main reason behind this is the support received from the states of Michigan, Pennsylvania and Wisconsin. In 2016, Donald Trump won all three states. But experts say that despite these conditions, Trump's victory cannot be ruled out. People generally do not say the truth in the opinion polls and it has been proved in 2016 elections.
Those who are in a state of indecision tend to make the most impact on the results, and this time the tilt of such voters is visible towards Donald Trump. In Michigan, Pennsylvania and Wisconsin, voter registration of Trump's supporters has grown rapidly, so these people can turn around.
Electoral experts say Trump is scheduled to get 163 electoral votes from the staunch Republican states while Biden can get 260 electoral votes, including the states of Michigan and Wisconsin. But if Trump wins all those states where he won in 2016 and Pennsylvania, North Carolina, Arizona and Florida, he will get 270 electoral votes and he will be the winner for the second term.
Keep yourself updated with latest news through Newstrack App. To download App from Google Playstore visit here - Newstrack App