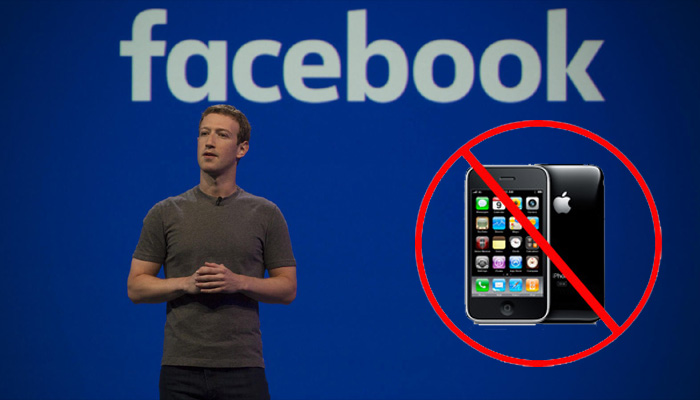 Did Fb discourages its employees to use iphones after Tim's comment?
California: Facebook has denied all the allegations levelled against CEO Mark Zuckerberg for discouraging its management team to ditch iPhones and use Android phones after Apple's CEO Tim Cook's comment.
Recently, social media app Facebook had been alleged for many wrong reasons amid which Cambridge Analytica data privacy leak, fake news crisis and handling the Russian interference in US are major ones.
ALSO READ: Man booked for spreading hatred, 'Anti-national' msgs on WhatsApp
After facebook came under data privacy scandal, Apple's CEO Tim Cook came critical of Facebook in term of user privacy. And the media was abuzz of various news of rift between the two technological mammoths.
Apple CEO Tim Cook had made a comment where he came out critical of the social media company.
"We could make a ton of money if we monetised our customers, if our customers were our product…We're not going to traffic in your personal life. Privacy to us is a human right, a civil liberty," said Tim.
Tim's remark was considered to be against Facebook and is thought to be the main reason why Zuckerberg apparently ordered his management to discard using iphones and switch to Android phones.
ALSO READ: Google Doodle celebrates first interstellar message by humankind
Though Mark gave credit to Android for its large user base, "the operating system had far more users than Apple's," argued Facebook CEO.
In an interview the Facebook CEO had said that Cook's arguments were "extremely glib" and "not at all aligned with the truth".
Facebook also released an official statement saying that the company has encouraged its employees to use Android phones as it is "the most popular operating system in the world", and not because the Apple CEO was critical of them.
"Tim Cook has consistently criticised our business model and Mark has been equally clear he disagrees. So there's been no need to employ anyone else to do this for us. And we've long encouraged our employees and executives to use Android because it is the most popular operating system in the world," the statement reads.
Zuckerberg also argued that if Facebook cares about his users. He added that, "Just because Facebook charges its users less does not mean it does not care about them. To the contrary, I think it's important that we don't all get Stockholm syndrome and let the companies that work hard to charge you more convince you that they actually care more about you. Because that sounds ridiculous to me."
ALSO READ: Mahindra launches electric auto rickshaw in Bengaluru
Keep yourself updated with latest news through Newstrack App. To download App from Google Playstore visit here - Newstrack App