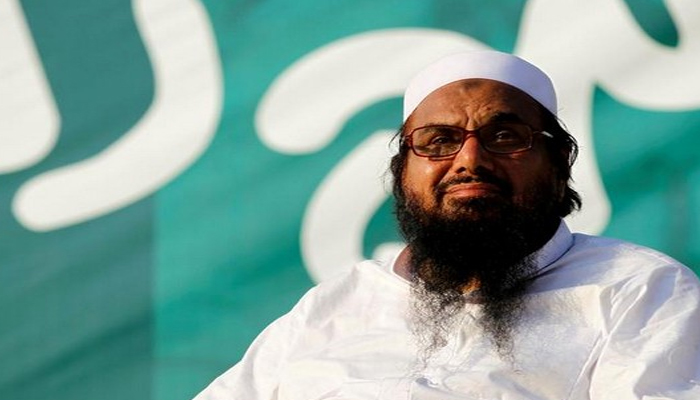 A Pakistan court convicts Hafiz Saeed for 5 years in terror financing cases
Terrorist Hafiz Saeed to be in Jail for 11 years. A local court of Pakistan announced its decision today.
Five years imprisonment is announced in the case of terror funding.
Terrorist Hafiz Saeed was involved in Mumbai serial attack. Hafiz Saeed is culprit of almost 25 cases including financial support to terorists and invalid activities.
A Pakistan newspaper was quoted as saying that Deputy Prosecutor General Abdul Rauf Wattu said that six cases against the accused were pending in the court, of which four were under process to produce evidence. All four cases will be heard by the end of this week.
The case was under ATC Lahore:
The anti-terrorism court (ATC) Lahore indicted Saeed and three of his top aides Hafiz Abdul Salam bin Muhammad, Muhammad Ashraf and Zafar Iqbal on terror financing charges on December 11.
"The Counter Terrorism Department of Punjab Police produced a witness in the Anti-Terrorism Court (ATC) Lahore who testified against Saeed and his three aides in terror financing," a court official told media after the hearing.
Who is Hafiz Saeed:
Hafiz Muhammad Saeed is a Pakistani Islamist militant, who is a co-founder of Lashkar-e-Taiba and the chief of Jama'at-ud-Da'wah, operating mainly from Pakistan.
His name was also highlighted in Mumbai serial blast 2008. According to reports, he was funding the terrorist organisations and giving them supoort throughout the incident.
Saeed, who has a $10m US government reward out for his capture, has been accused by India and the US of masterminding the 2008 attacks in the Indian city of Mumbai that killed more than 160 people.
Last March, Pakistan formally banned Saeed's charity Jamat-ud-Dawa (JuD) and other associated organisations, after years of allowing them to operate freely across the country.
The cases were registered against Saeed in Lahore and Gujranwala cities on the application of the Counter Terrorism Department of Punjab police.
ALSO READ: Nepal shuts mountainous resort where 8 Indian tourists died
Keep yourself updated with latest news through Newstrack App. To download App from Google Playstore visit here - Newstrack App