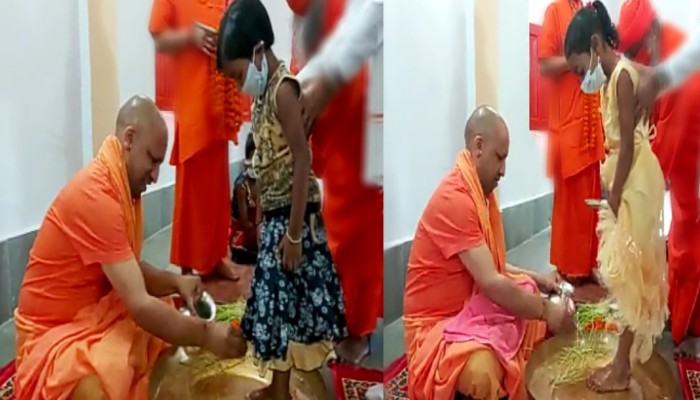 Vijayadashami 2020: CM Adityanath performs 'Kanya pujan' at Gorakhnath temple (Twitter)
People across the country have united in celebrating Dussehra. The underlying message on this day is the victory of truth over evil and to celebrate that effigies of the 10-headed Ravana is burnt. Uttar Pradesh Chief Minister Yogi Adityanath too shared greetings for Maha Navami and Dussehra. On this occasion, he hoped for the triumph of truth and wished for new hope.He also extended his greetings for Mahanavami.
CM Yogi Adityanath on Sunday (October 25) performed the Kanya Pujan ceremony at the Gorakhnath temple.
CM Yogi Adityanath:
The Chief Minister, who is also the head of the Goraksh Peeth in Gorakhpur, said that in Indian culture, the role of a 'mother' is revered and the 'Kanya Pujan' symbolized the power.
मंत्राक्षरमयीं लक्ष्मीं मातृणां रूपधारिणीम्
नवदुर्गात्मिकां साक्षात् कन्यामावाहयाम्यहम्।।जगत्पूज्ये जगद्वन्द्ये सर्वशक्तिस्वरुपिणि।
पूजां गृहाण कौमारि जगन्मातर्नमोस्तु ते।।

नवरात्रि के शुभ अवसर पर आज विधि-विधान से कन्या-पूजन का पुनीत कार्य संपन्न हुआ।

कन्या देवियों को नमन! pic.twitter.com/bwvP2FKOAH

— Yogi Adityanath (@myogiadityanath) October 25, 2020
He conveyed his good wishes to the people of the state on the occasion of 'Dusshera' and asked people to follow the coronavirus-induced safety guidelines, while remaining alert against the spread of the virus.
ALSO READ: Happy Dussehra: India Gears Up to Celebrate Victory of truth
Earlier in the day, he took to Twitter, to extend his greeting to the people. "May all the devotees get the blessings of Ashta Siddhi,
With the blessings of Mother, the spirit of affection, equality, fraternity and harmony should spread in the world. May the grace of mother be forever. This is all I pray for. Jai Mata Siddhidatri!" he tweeted.
ALSO READ: Mission Shakti: UP launches 1535 women help desks across all state police stations
Stay tuned with the newstrack to get fastest updates. Click @englishnewstrack to follow us on Facebook and @newstrackmedia to follow on Twitter.
Keep yourself updated with latest news through Newstrack App. To download App from Google Playstore visit here - Newstrack App