Gorakhpur Mayor receives life threat from Tihar Jail inmate
Gorakhpur: Mayor of Gorakhpur Dr. Satya Pandey on Tuesday received life threat from a Tihar Jail inmate Toni Ojha through a postal letter.
The letter she received had recipient's address as 1, High Risk Ward, Tihar, Delhi (110064).
What was in the letter?
How are you Mayor Sahiba (Mam)?
You did nothing for the city and hence you must resign from the position you hold. People in the city now want to see my younger brother Manoj Ojha as the Mayor of Gorakhpur.
You have August 26, the deadline to serve your resignation or else, I will kill you by August 31.
- Toni Ojha (Gorakhpur Ariya), Tihar Jail.
Not afraid of such threats:
Satya Pandey said that she is people's servant and she is not afraid of such threats

I will continue my work for the people of Gorakhpur

I have received such threats several times in the past

Police and the District Magistrate have been informed about the letter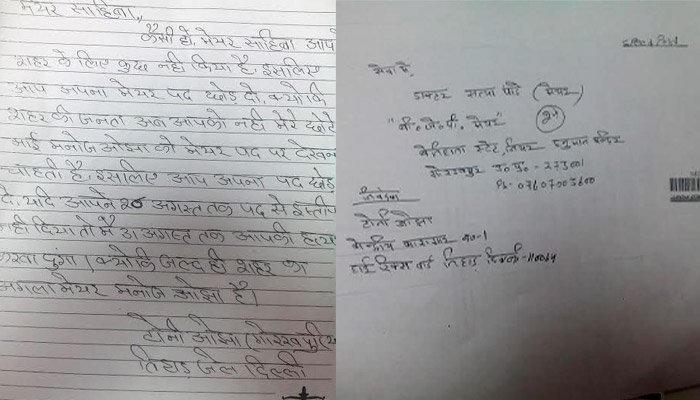 Mayor
What the SSP said?
SSP Ramlal Verma said that police has got a copy of the letter

Police has started its investigation

Tihar authorities also have been contacted to enquire about the letter
ALSO READ:
Mulayam-Amitabh Case: CJM court orders scrutiny of taped phone call
Who is Toni Ojha?
Toini Ojha is behind the bars in Tihar Jail since years

He is facing jail term for murdering a police constable

Newstrack tried to contact his brother and politician Manoj Ojha but he was out of reach