UPMRC resumes essential works of Kanpur Metro Project
LUCKNOW: After the relaxation provided by the Central Govt. to commence the essential construction works and getting final nod from the district administration, Uttar Pradesh Metro Rail Corporation (UPMRC) has resumed the civil construction work of Kanpur Metro project from 30.04.2020, abiding by the regulations issue by the Ministry of Home Affairs, GoI and Standard Operating Procedures (SOP) approved by Ministry of Housing and Urban Affairs, GoI. The construction related works has been started at Metro casting yard and Metro Depot site at Polytechnic.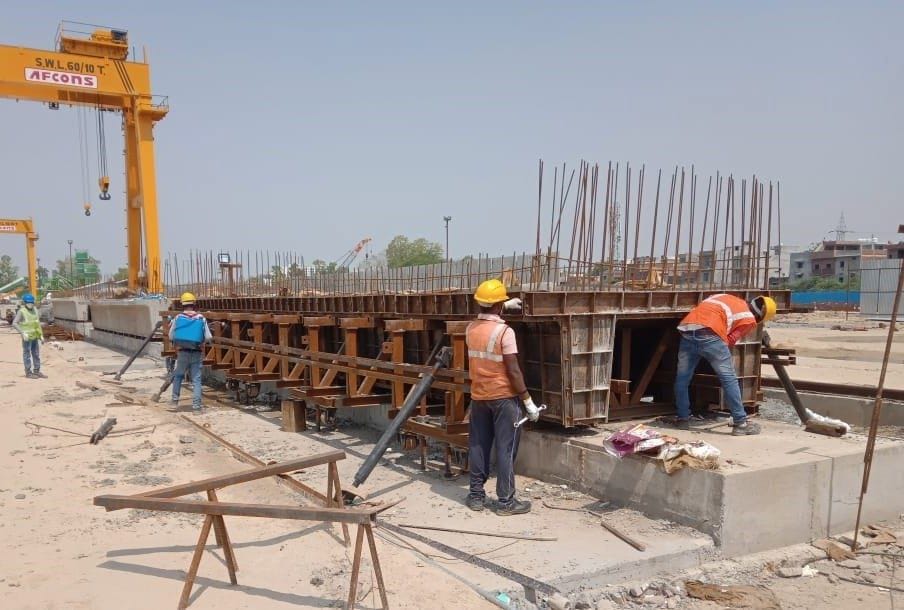 The work at the casting yard has been started by lifting and shifting of pre-casted T-girders and the required maintenance keeping precautions against COVID-19 infection into consideration. These maintenance works include disinfecting vehicles in use, constructions sites and other materials. Besides, thermal screening is also being done of Metro officers and workers at the construction sites. The work at both the sites is being carried out in only one shift i.e. from 9 AM – 6 PM.
Metro officers are also ensuring that social distancing remains on top priority during the work. Before the announcement of the lockdown, the civil construction work of the Kanpur metro project was proceeding at an extraordinary pace, but had to be halted in unavoidable conditions created due to the global pandemic of COVID-19 but in this time of uncertainty with the aim of being prepared for all the circumstances and following the instructions of the UPMRC, the contractors made arrangements of food and shelters for the workers so that as soon as the corporation gets instruction from the government, the project may resume as soon as possible.
ALSO READ:Indian Air Force aircraft showers flower petals for Frontline Corona Warriors