Rahul's Kisan Yatra rally panics District committee authorities
The yatra was earlier scheduled to be held on September 28 but was postponed for October 3 due to the delay in getting permission. The party workers, however, did not get permission but decided to hold the rally as planned
Moradabad: Defying the orders of District administration Congress Vice President Rahul Gandhi went ahead with his planned schedule of Kisan Yatra road show here on Monday. Gandhi held a direct interaction with youth of the district. The one-and-a-half hour show kept the district administration on its toes owing to security risk to the party authorities as they passed through some high tensioned electricity wires.
The show was being minutely monitored by the District Magistrate (DM), Senior Superintendent of Police and other dignitaries.
According to reports, the route decided for Rahul Gandhi's road show failed to get security clearance by the district security committee.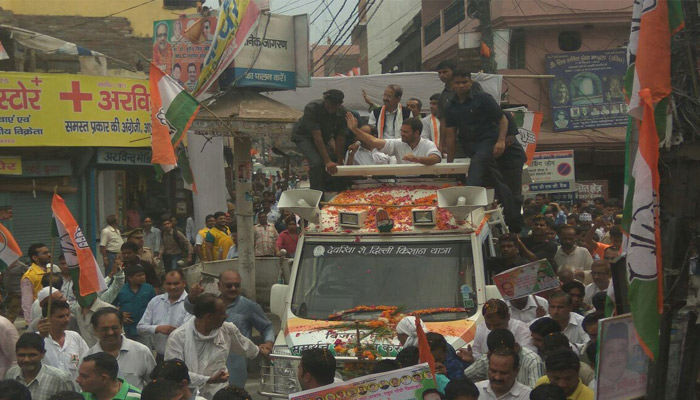 What Rahul Gandhi said:
The Congress vice president targeted PM Modi and said that the government in centre was working for the businessmen.

The Modi government does not pay heed to the needs of the weaker section of the society, said Gandhi.

Rahul Gandhi stated, "The NDA government is spending money on the development of the big businessmen while the farmers of the country are dying of hunger."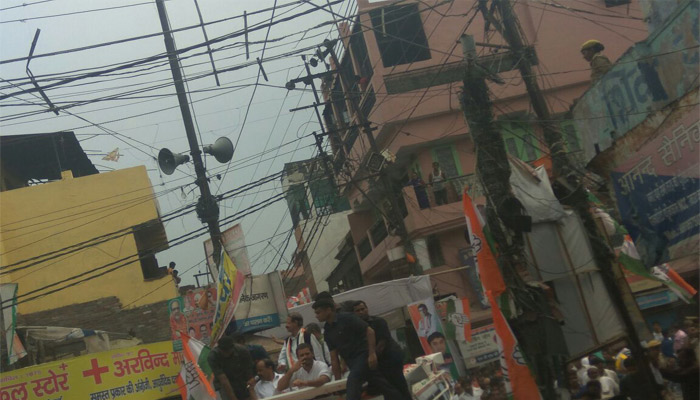 The Kisan Yatra roadshow:
The Kisan Yatra rally started from Jama Masjid and ended at the Jain Mandir near townhall where Gandhi garlanded the statues of freedom fighters in Company Bagh.

The yatra was earlier scheduled for September 28 but postponed due to delay in permission.

The party workers, however, did not get permission but decided to hold the rally as planned.
Committee had refused security clearance:
Moradabad district administration had denied permission for Rahul Gandhi's rally as they were unable to get proper security arrangements but the party workers insisted on following the planned schedule.

"The route provided by the district Congress committee was rejected due to various security reasons and since then, no alternate route plan was submitted at the office of the district magistrate," Nitin Tiwari, SSP Moradabad had said.