UP chief secretary Singhal pays pre-announced 'surprise visit'
Lucknow: Uttar Pradesh chief secretary Deepak Singhal is on the 'surprise visit' of two districts and it was well publicised by his team a day before his visit.
Surprisingly, the press release issued on Monday mentioned it clearly that the Chief Secretary will be visiting Aligarh and Farrukhabad districts on Tuesday and pay surprise visits at certain places. Needless to say, all officers are in alert mode to welcome him on 'surprise visit'.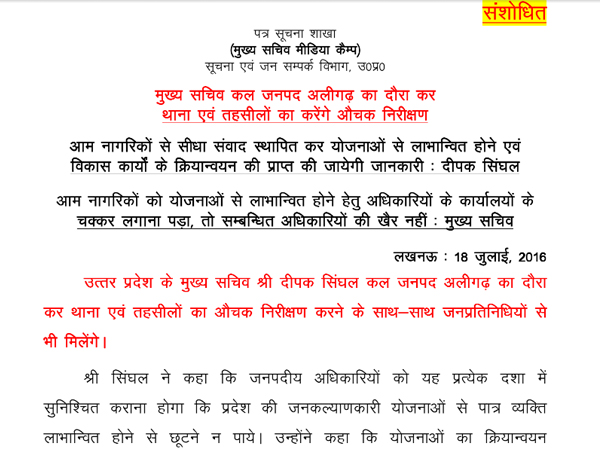 The pre-announcement of his visit is drawing flak from all circles especially when it was being publicised as 'surprise visit'. Deepak Singhal, earlier, had announced that his helicopter may land anywhere in the state and the entire officialdom should be in the working mode all the time.
Singhal, accompanied by Director General of Police (DGP), may well have paid the 'surprise visit' but it puts a question mark as these are already announced in advance. Normally, such visits are generally known to district officials well in advance for preparation of helipad etc but announcing it through publicity mechanism is something new this time.