Lucknow: Airport operations stalled due to technical snag in radar
Lucknow: Amausi Airport operations at Lucknow were thrown out of gear on Saturday evening due to a technical snag in the radar DVOR.
Following the problem, around half a dozen planes were not allowed to land at the Chaudhary Charan Singh International Airport, popularly known as Amausi Airport.
Speaking about the issue, Airport Director PK Srivastava said, "A team of engineers is trying to resolve the technical snag in the radar DVOR. We are taking help from Kanpur and Delhi officials to replace the impaired part in the radar. The problem is expected to be resolved by late night."
Also Read: Dimple and Priyanka share frame in new poster; Alliance on cards?
According to the airport sources, hundreds of passengers are affected due to the technical glitch in the radar DVOR, which occurred due to some moisture in its panel. A technical team is trying to resolve the snag and restore the air services at the airport.
The sources added that Airport Director is trying to make arrangements for emergency landing of the aeroplanes at the Amausi Airport. Several other top officials are also present at the airport, while the air traffic has been suspended till 12 am.
Also Read: SP legislator Raja Aridaman Singh joins BJP with wife Pakshalika
It has been reported that the airport was having signal problems for the past three days. On Saturday, a technical team was trying to fix the problem which brought some moisture in the panel of the radar DVOR and it stopped functioning.
Around 13 flights coming from Mumbai have been diverted while the landing of over half a dozen flights have been delayed, said the sources. After a ruckus created by the passengers, they were shifted to the waiting rooms with assurance that the problem will be resolved soon.
The airport director also appealed the passengers to cooperate with the airport authorities in the situation.
To see the list of cancelled flights, check the next slides: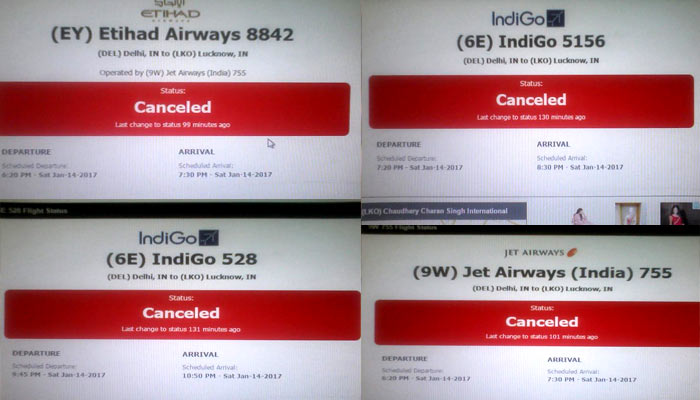 https://twitter.com/IndiGo6E/status/820239845251489794?ref_src=twsrc^tfw
https://twitter.com/jetairways/status/820255415879483392?ref_src=twsrc^tfw
See more pictures of the airport in next slides: