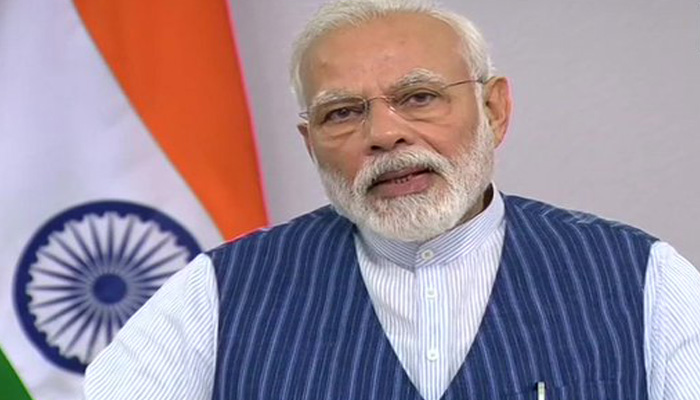 LIVE: PM Modi's interaction with People of Varanasi
VARANASI: In the midst of Corona's panic, Prime Minister Narendra Modi is repeatedly urging the countrymen to remain in moderation and discipline. After the public curfew, Modi has instructed to impose complete lock down in the country.
This lock down will continue till 14th April. PM Modi addressed in his statement that if we stay at our homes for these 21 days, we will win the fight. Ignorance of any instruction can cause big trouble in future.
LIVE : WHAT PM MODI SAID
-I have told Home Ministry & DGPs to take strict action against those who are not supporting or not co-operating with doctors, nurses & other professionals who are serving us in this critical time.
-I appeal to all the citizens, if you notice any incident where professionals, such as doctors&nurses, are ill-treated then you should take an initiative to make such people understand that they are wrong.
ALSO READ: Guj govt to provide food items free to 60 lakh poor families
Also, it has been said to follow Lockdown strictly. After the countrymen, Prime Minister Narendra Modi will meet the people of his parliamentary constituency on Wednesday. Modi will share information related to the corona virus to the people of his area at 5 pm through video.
PM MODI's APPEAL TO VARANASI:
PM Modi could appeal to the people of Varanasi to follow the Guidelines strictly. PM will also show case his efforts as Sansad from Varanasi. He will tell people of Kashi that how staying at home is helpful and one and only way to be safe in this tough situation.
ALSO READ:'Social distancing' at Union Cabinet meeting
11 PEOPLE DIED IN INDIA:
In India total 11 people lost their lives due to corona virus. Almost 587 people are infected with this virus. PM Modi urged countrymen to stay at home, PM announced complete shutdown from 25th March. The lock down will is of 21 days duration.
Prime Minister Narendra Modi also assured the country that no one will be allowed to step out from his home. They will provide every essential service to everyone.
Food stores and Medicines are available in enough amount.
ALSO READ: Govt released guidelines on corona virus, keep these 10 things in mind
Stay tuned with the newstrack to get fastest updates. Click @englishnewstrack to follow us on Facebook and @newstrackmedia to follow on Twitter.