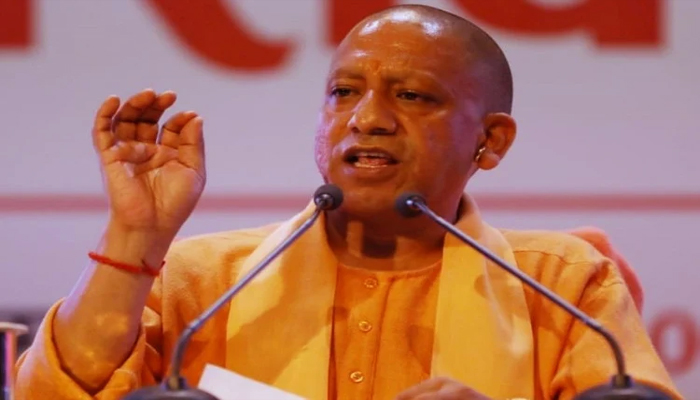 UP CM Yogi warns of strict action against 'Tandav' makers for Insulting Hindu Religion (File Photo)
Lucknow: The Chief Minister of Uttar Pradesh, Yogi Adityanath, has also taken the initiative to promote Prime Minister Narendra Modi's Vocal for Local Mantra. CM Yogi himself has given suggestions to the people of the state about the gifts of Deepawali. This Diwali, he has appealed people to buy indigenous goods. Yogi also posted a tweet with the local4Diwali hashtag.
Look at his tweet!
'तमसो मा ज्योतिर्गमय' की अभीप्सा को प्रकट करते प्रकाश पर्व दीपावली में अब धरा स्वदेशी के बहुरंगी आलोक से आलोकित होगी।

माता लक्ष्मी और भगवान गणेश जी की टेराकोटा की प्रतिमा के पूजन के माध्यम से स्थानीय शिल्पकारों के जीवन को आशा-उमंग के उजास से अभिसिंचित करना है। #Local4Diwali pic.twitter.com/XzAyJM69L0

— Yogi Adityanath (@myogiadityanath) November 8, 2020
ALSO READ: CM Yogi preps for Grand 'Virtual Deepotsav' in Ayodhya, PM Modi to Attend Event
CM suggested some gifts for your loved ones
CM Yogi has tweeted about the advanced handicrafts and crafts of Uttar Pradesh, that on Diwali, give gifts to local products made in UP. This will increase love and will also sell indigenous goods.
According to CM Yogi, the terracotta of Gorakhpur, the silk saree of Banaras and the Zardozi embroidery of Lucknow are unique. Win the hearts of your loved ones with these local offerings this Diwali. CM himself comes from Gorakhpur, so he has promoted the terracotta sculpture of Gorakhpur.
उत्तर प्रदेश के सभी जनपद अपने अद्वितीय शिल्प हेतु जग प्रसिद्ध हैं।

गोरखपुर का टेराकोटा हो या बनारस की रेशमी साड़ी अथवा लखनऊ की जरदोजी कढ़ाई, सभी अपनी नायाब कारीगरी से मन मोह लेते हैं।

आइए, इस दीपावली अपने आत्मीय जनों का मन इन्हीं स्थानीय शिल्प की भेंट से मोह लें। #Local4Diwali

— Yogi Adityanath (@myogiadityanath) November 9, 2020
PM Modi repeated the mantra of Vocal for Local
PM Narendra Modi on Sunday inaugurated the Ro-Pax terminal via video conferencing in Hazira, Gujarat and flagged off the Ro-Pax Ferry service between Hazira to Ghogha. During this, he appealed to people to buy indigenous goods on Diwali.
Modi said, "Shopping is also happening at this time of festivals. You don't have to forget the mantra of Vocal for Local at the time of this shopping. The country is going to celebrate 75 years of independence. The mantra of Vocal for Local is for us and our family. Mantra should be made. It should be our strength. Therefore, it should become the turning point of Diwali Vocal for Local. "
Stay tuned with the newstrack to get fastest updates. Click @englishnewstrack to follow us on Facebook and @newstrackmedia to follow on Twitter.
Keep yourself updated with latest news through Newstrack App. To download App from Google Playstore visit here - Newstrack App