UP govt transfers 11 IAS officers; retains Rama Raman
Lucknow: Despite intervention of Allahabad HC in recent past, Uttar Pradesh government again posted Rama Raman as Chairman of Noida, Greater Noida and Yamuna Expressway Industrial Authority and Principal Secretary Industrial Development. The 1987-batch IAS officer was relieved from the post of chairman in July.
Including him, 11 IAS officers have been transferred on Saturday with immediate effect.
While Navneet Sehgal gets the additional charge of Sports, Youth Affairs, Manoj Sinha becomes Secretary Social Welfare.
Below is the list of all IAS transfers: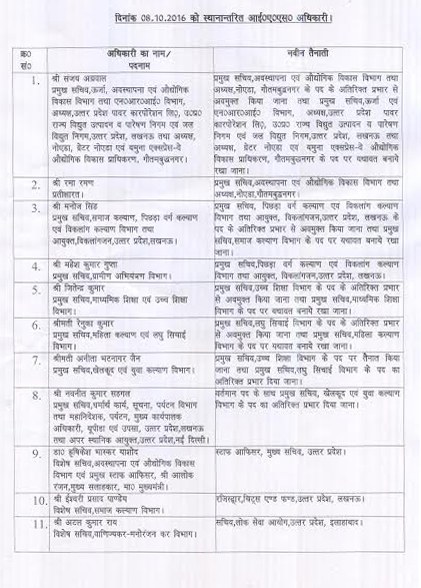 The high court had seized CEO Raman's powers in July over a petition filed by Noida resident Jitendra Kumar Goyal. The petition questioned that how Raman could be given the charge of both the CEO of Noida authority and chairman of Noida, Greater Noida and Yamuna Expressway authorities?
ALSO READ:
In Picture: Busy the CM, busier is his better-half…!!
Lucknow bench of Allahabad HC rejects petition against smart phone
Meanwhile, on August 16, Akhilesh yadav government had informed the court that it had decided to retain Raman as CEO of Noida Authority as his services were required for the running of next phase of metro train from March 2017.