MP to get rid of HIV through 'Join Hands to Stop AIDS' campaign
Bhopal: Madhya Pradesh State AIDS Control Society, Department of Public Health & Family Welfare, has launched a mission in the name of 'Join Hands to Stop AIDS' to eradicate the deadly disease from the state.
Project Director MP State AIDS Control Society Umesh Singh, who is leading the campaign from the front, says, "Spreading awareness about HIV-AIDS is extremely important and the task should be done on priority. We have brought some fresh ideas including formation of a human chain to inspire people join the campaign and help the society get rid of the infectious disease."
Through the mission the department is spreading awareness about HIV-AIDS and for the same they also formed a three-kms Human Chain at the VIP Road on the bank of Bhopal Lake which comprised over 4,000 representatives of various educational institutions, professional training colleges, Targeted Intervention NGOs, Lions, Rotary club, Red Cross Society, Chambers of Commerce, Positive Network, etc.
Being the chief guest of the event, Minister for Public Health and Family Welfare Rustam Singh flagged off and inaugurated the Human Chain here.
Lauding the Madhya Pradesh State AIDS Control Society, the minister said that due to the effective strategies and efforts of the department, the infection rate of HIV infection is reduced in the state.
He also emphasised on importance of awareness in controlling infections like HIV-AIDS. He has made appeal to the youth to be aware and to support the awareness generation among general population as well. He said that youth can play an important role in controlling not only HIV-AIDS but the infections like Swine Flu as well.
He also appealed to the media houses to maximize their support in creating awareness about the various health issues because nowadays media is very powerful in terms of spreading messages and to create awareness about various issues among the masses.
Also Read: What? Bleaching regularly can cost the health of your lungs
The participants were equipped with hand outs and banners displaying slogans and messages about HIV-AIDS Awareness and to Stop Stigma and Discrimination related to HIV-AIDS which generally happens by lack of awareness.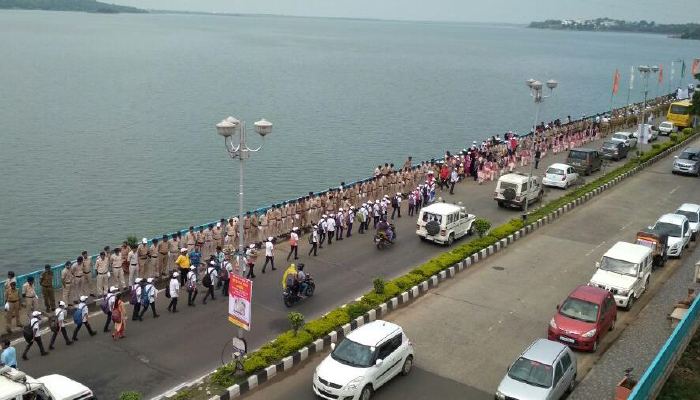 Advocacy to stop Stigma and Discrimination towards People Living with HIV AIDS is also done through this activity. Boards, flexes and big cutouts of Red Ribbons were also displayed on the program venue which attracted attention of local population. An IEC van was also prepared by TI Team with the support of LIC India. Folk Troupes and magicians performed interesting shows to create awareness. IEC material was also distributed to the participants and community as well.
Other dignitaries like Commissioner Health Dr. Pallavi Jain Govil, Project Director MPSACS Umesh Kumar, National Director of NSS & IPS Veerendra Mishra, DG Police, Famous Film Actor and Director Rajeev Verma, Dr. RK Vijay Deputy Secretary and State Head of NSS, Department of Higher Education, Dr. Samadhiya Director NYKS, Dr. Prakash Disoriya State Secretary of Bharat Scout and Guide were also present on the occasion.
Vote of Thanks is given by Mrs Savita Thakur, Joint Director IEC. All Senior Officers Namely Joint Director Dr. UCYadav, Joint Director Rajesh Agrawal, Deputy Director Dr. Ankita Patil, Deputy Director Dr. T.D. Bhakoria, Deputy Director Sunila Sharma Raja, Deputy Director Prashant Malaiya and all staff members of MPSACS and Team Leader TSU Mahendra Pancholi along with all Project Officers were also present in the program.