Amazing: Baby delivered at an altitude of 42,000 feet
Ankara: A baby passenger was welcomed in a Turkish Airlines Boeing 737 in NorthWest Africa when a passenger gave birth to a girl child.
The crew members and other passengers helped in the delivery of the newborn, when the 28-week pregnant lady went into labour on the flight at an altitude of 42,000 feet (12,800 metres) after it took-off from Guinea's capital Conakry to Istanbul.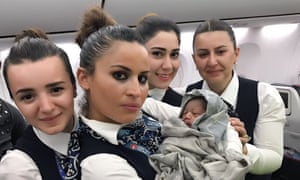 The airline in the statement said, "The cabin crew noticed that a woman passenger named Nafi Diaby, 28 weeks into her pregnancy, was suffering childbirth pains. Soon they helped to assist her childbirth in the flight."
As soon as the flight landed, the mother and the infant named Kadiju were admitted in the hospital in Burkina Faso.
The airlines shared this happy news on twitter after the baby and the mother was safely landed in the nation.
Welcome on board Princess! Applause goes to our cabin crew! ???? pic.twitter.com/FFPI16Jqgt

— Turkish Airlines (@TurkishAirlines) 7 April 2017