Narsingh's Rio dreams crushed as CAS bans for four years
Rio de Janeiro: Following the successful appeal by the World Anti Doping Agency (WADA), Court of Arbitration for Sport (CAS) on Friday banned Indian wrestler Narsingh Yadav for four years crushing his Olympic dreams.
CAS has accepted WADA's appeal against the clearance to the wrestler to compete in the Rio Olympics 2016.
CAS said in a statement-
WADA filed an urgent application before the CAS ad hoc division to challenge the decision of NADA India to exonerate Narsingh Yadav following two positive anti-doping tests with methandienone on June 25 and July 5. The athlete asserted that he was the victim of sabotage (food/drink tampering) by another person. WADA requested that a four-year period of ineligibility be imposed on the athlete.

The CAS panel did not accept the argument of the athlete that he was the victim of sabotage and noted that there was no evidence that he bore no fault, nor that the anti-doping rule violation was not intentional. Therefore the standard four-year period of ineligibility was imposed by the panel.

The CAS panel in charge of this matter heard the parties and their representatives today. The parties were informed that the application was upheld, that Narsingh Yadav was sanctioned with a four-year ineligibility period starting today and that any period of provisional suspension or ineligibility effectively served by the athlete before the entry into force of this award shall be credited against the total period of ineligibility to be served.

Furthermore, all competitive results obtained by Narsingh Yadav from and including 25 June 2016 shall be disqualified, with all resulting consequences (including forfeiture of medals, points and prizes).
After CAS' decision of banning Narsingh for four years, Indian Chef de Mission said-
It is very sad and unfortunate. We were hopeful until the last proceeding of the CAS that he will get through which unfortunately did not happen.

It is really very sad because he had a real potential to clinch a medal.
Earlier, after National Anti-Doping Agency (NADA)'s clearance, WADA had used its right to appeal against NADA verdict to the CAS.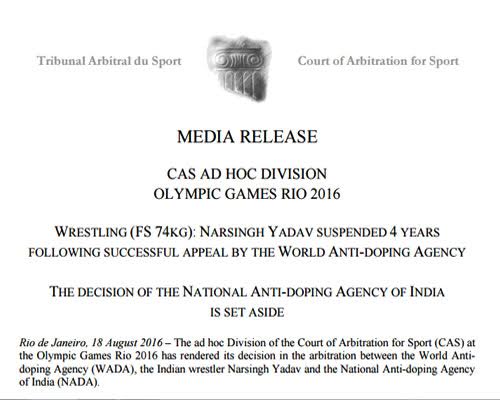 Also read: Rio: PV Sindhu beats Nozomi, assures silver, targets gold in finals