FIFA 2018: Meet the top 10 star players of Football World Cup
[nextpage title="Next" ]
Lucknow: Football is a game of opinions and guessing the Top 10 is a task that requires scratching your mind to the core!
The football craze among Indian youth is as much as the cricket and as the FIFA fever is high on heads we have compiled for you the top players of the game with ratings based on their performances.
In slides ahead are the 10 star players to look out for in FIFA World Cup 2018...
[/nextpage]
[nextpage title="Next" ]
CRISTIANO RONALDO
REAL MADRID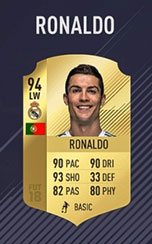 There are few things that Ronaldo cannot do on a pitch, and few attacking positions in which he won't excel. His 93 shooting is evidenced by the unreal number of goals he's scored in the past few seasons, and Ronaldo's 90 Pace and 90 Dribbling make him virtually untouchable when in top form. Sometimes deployed as a forward, Ronaldo can dance into the box and dispatch the ball into the net without skipping a beat. He is probably at his best on the left wing, where he can create chances for teammates, or as he does more often, cut inside and lash the ball past a helpless goalkeeper.
[/nextpage]
[nextpage title="Next" ]
LIONEL MESSI
FC BARCELONA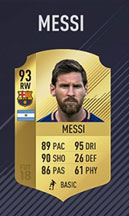 In a constant battle for best in the world (and of all-time), it's hard to say anything about Messi without stretching into hyperbole. His 95 Dribbling is the highest, and very few defenders are able to even come close to stopping him when he's playing his best. Combined with 89 Pace and 90 Shooting, Messi may usually start on the wing but he always finds a way to get in front of goal—where he rarely misses.
[/nextpage]
[nextpage title="Next" ]
NEYMAR
PARIS SAINT-GERMAIN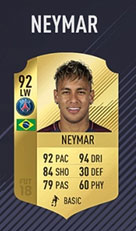 The most expensive player in the world, Neymar recently headed for Paris in a move that shocked the football world. While still slightly below Messi and Ronaldo, Neymar is in the upper echelons of the talent-packed history of Brazilian football. His 92 Pace makes him one of the fastest players out there, and his 94 Dribbling is reminiscent of Ronaldinho at his peak.
[/nextpage]
[nextpage title="Next" ]
LUIS SUÁREZ
FC BARCELONA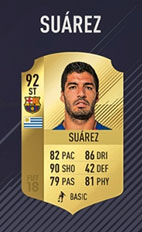 As brilliant as he is controversial, Suárez can finish with the best of them thanks to his powerful, accurate 90 Shooting. But beyond his amazing ability in front of goal, it's Suárez's 86 Dribbling and 81 Physical that truly sets him apart. He works extremely hard both with and without the ball, and his unpredictable nature makes it impossible for defenders to truly prepare for what Suárez will do next.
[/nextpage]
[nextpage title="Next" ]
MANUEL NEUER
BAYERN MÜNCHEN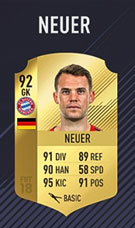 Famous for being as adept with his feet as he is with his hands, Neuer has held a firm grasp on the title of best goalkeeper for a few years. He's at the top of his game regarding traditional goalkeeping skills, like 91 Diving and 90 Handling, but it's his 95 Kicking score that truly sets him apart. Neuer's ability to kick off counterattacks with his feet is unprecedented, and having him between the sticks is like having an extra playmaker.
[/nextpage]
[nextpage title="Next" ]
ROBERT LEWANDOWSKI
BAYERN MÜNCHEN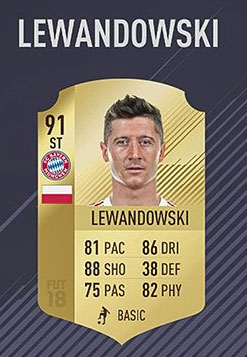 Despite being dismissed early in his career as just a physical target forward, Lewandowski has evolved into the most complete striker in the game. He has the traditional target forward skills that his 88 Shooting and 82 Physical show, but his 86 Dribbling and 81 Pace round him out more than any other player at his position.
[/nextpage]
[nextpage title="Next" ]
SERGIO RAMOS
REAL MADRID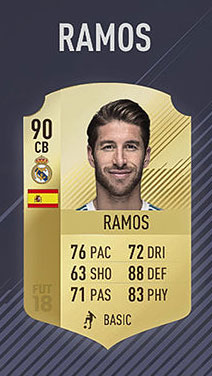 The best centre back in the world, Ramos has an 83 Physical rating that makes him brilliant on both sides of the ball. Whether heading out of his own box or into his opponent's net, few players can match Ramos' aerial prowess. His 88 Defending encompasses the many traits in which he excels, from leadership to composure on the ball to an excellent reading of the game.
[/nextpage]
[nextpage title="Next" ]
EDEN HAZARD
CHELSEA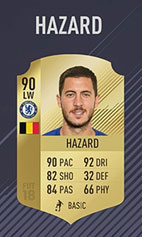 Perhaps the most famous Belgian footballer in history, Hazard possesses an astounding 90 Pace and 92 Dribbling. Elusive and technical on the wing, Hazard is equally adept at cutting inside to shoot and moving to the touchline to pass or cross to a teammate.
[/nextpage]
[nextpage title="Next" ]
TONI KROOS
REAL MADRID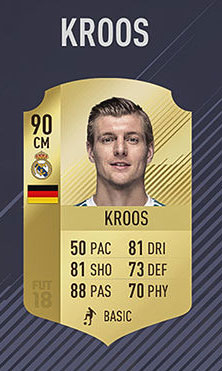 A key cog in the successful machines of both Real Madrid and the German national team, Kroos is the best passer (88 Passing) in the modern game. While his 81 Dribbling and 81 Shooting are both very important, it's his ability to place a ball literally anywhere on a pitch that makes him truly world class.
[/nextpage]
[nextpage title="Next" ]
GONZALO HIGUAÍN
JUVENTUS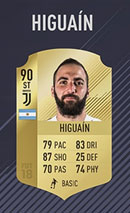 More on the traditional side as far as forwards go, Higuaín can finish nearly anything with both feet and his head. His 87 Shooting is extremely impressive, and his 83 Dribbling gives him the ability to open up space for himself and his teammates.
News and Photo credit: easports.com
[/nextpage]