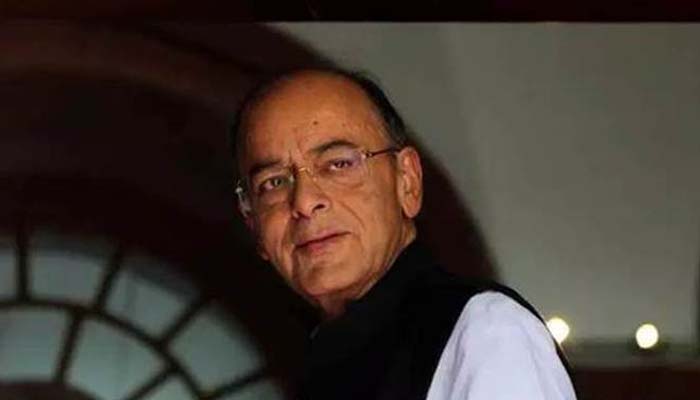 RIP Arun Jaitley: Let's take a walk down memory lane
New Delhi: Born and raised in New Delhi, Arun Jaitley extend the small family of Maharaj Kishen Jaitley (lawyer) and Ratan Prabha Jaitley (a housewife) on December 28, 1952.
Holding multiple portfolios, this Indian lawyer, politician, and government official, was also an eloquent speaker, who served as a leader of the Bharatiya Janata Party (BJP) in the Rajya Sabha (upper chamber of the Indian parliament) during 2009–14. Jaitley joined the cabinet of the BJP-led government of Prime Minister Narendra Modi in 2014. His political and professional career was largely noncontroversial.
ALSO READ: Indian Navy sounds alert at seas after intel of terrorists' intrusion
Jaitley studied at St. Xavier's School, Delhi from 1957–69 and completed a bachelor's degree in commerce in 1973 from Delhi's Shri Ram College of Commerce. He received his LLB degree in 1977, from the Faculty of Law, University of Delhi. During his time at the university, he joined the student wing of the pro-Hindu organization Rashtriya Swayamsevak Sangh (RSS), Akhil Bharatiya Vidyarthi Parishad (ABVP) and became a member of  it. Later in 1974, he was elected president of the student union at the university and since then he never looked back.
Jaitley also demonstrated against the imposition of emergency in 1975 by the then Prime Minister Indira Gandhi, and was arrested and jailed for 19 months. After being released from the jail he joined the Jan Sangh. In 1977, being the convener of the Loktantric Yuva Morcha youth organization, Jaitley was appointed the president of the Delhi ABVP and All India Secretary of the ABVP.
Making a firm grip in the politics, Arun joined the BJP after its formation in 1980. He served as additional solicitor general in the BJP-led government in 1989–90. During this time he was involved in some of the investigations into the scandal involving a Swedish weapons manufacturer. The company was accused of paying bribes to several high profile personalities, including the then-prime minister, Rajiv Gandhi.
n 1991 Jaitley was included in the BJP's national executive body and also served as party's spokesperson prior to the 1999 parliamentary elections and for several months in 2002–03.
Holding a variety of ministerial posts in the BJP-led National Democratic Alliance (NDA) coalition government (1999–2004), including minister of Law, Justice, and Company Affairs and minister of Commerce and Industry, Jaitley gained a reputation among the party members.
He was appointed as the BJP's general secretary, when the NDA lost power in the 2004 polls.
First elected to the Rajya Sabha in 2000, Jaitley played a significant role in making and amending laws. During his first term he introduced bills for two amendments to the constitution: first (2002)- he froze the number of seats in parliament until the year 2026, and second (2004) imposed penalties on MPs who defected from one party to another during their terms and limited the number of members of state ministry councils. In 2009 he was also chosen as the leader of the BJP opposition in the upper house. Jaitley was reelected to Upper House of Parliament in 2006 and 2012.
Supporting his party as a strong pillar and being active in politics since 1980 Jaitley had never contested any direct election until 2014. In 2014 Lok Sabha elections, Jaitley tasted defeat to Congress Leader Amrindar Singh from Amritsar seat, Punjab. However, BJP registered a massive victory at the polls, and Jaitley was given responsibility for three important portfolios in Prime Minister Modi's cabinet: defense, finance, and corporate affairs. And now Jaitley's position in Rajya Sabha was changed from leader of the opposition to the leader of the house. It is said that he was the reason for BJP's massive victory at 2014 polls.
ALSO READ: BJP will be happy if Udayanraje joins party: Maharashtra CM Fadnavis
During Bihar Legislative Assembly election, in 2015, Arun Jaitley with PM Modi opposed the idea of reservations on the basis of religion and was against giving reservations to Muslim Dalits and Christian Dalits as it might impact demography.
Demonetization
The BJP government during his tenure as the Finance Minister of India, demonetised the 500 and 1000 banknotes, with the stated intention to curb corruption, black money, fake currency and terrorism from November 9, 2016.
He advocated that the GST rollout is well and truly on track.
Quitting active role in the politics Jaitely, on May 29, 2019, wrote a letter to Prime Minister Modi, citing health issues and declined to take up role as a minister in the second term of Prime Minister Modi.
Health
Jaitely for quiet sometime was suffering from kidney complications, and was operated upon for kidney transplant on May 14, 2018, at the All India Institutes of Medical Sciences (AIIMS). Jaitley also had diabetes.
In January 2019, Jaitley was diagnosed with a rare form of soft-tissue sarcoma. To treat the condition he went to New York.
On August 09, 2019, he was hospitalized at AIIMS, Delhi under critical condition after complaining of "breathlessness". As per reports on 17 August, Jaitley's condition was critical and he was on life-support. Few days later on August 24, AIIMS issued a note stating Jaitley has passed away at 12.07 pm.
ALSO READ: Ladakhis want peace, but won't back out if the war comes: BJP MP