OMG! BJP office locked ahead of national party president Amit Shah's visit
In order to save the situation from turning ugly in front of the national party presindent the party locked the doors and disallowed the entry of workers in the premises. The party workers from Gazhipur and Hamirpur had threatened to stage demonstration in protest against the ticket
Lucknow: The Bharatiya Janata Party in Uttar Pradesh had to face a piquant situation when it had to lock up the state party headquarters ahead of arrival of party national president Amit Shah on Saturday.
This situation arouse in view of continuing protest of the party workers over the distribution of tickets for the upcoming assembly polls in the state.
In order to save the situation from turning ugly in front of the national party presindent the party locked the doors and disallowed the entry of workers in the premises. The party workers from Gazhipur and Hamirpur had threatened to stage demonstration in protest against the ticket distribution. Some of them even doused themselves with kerosene and threatened to set themselves afire.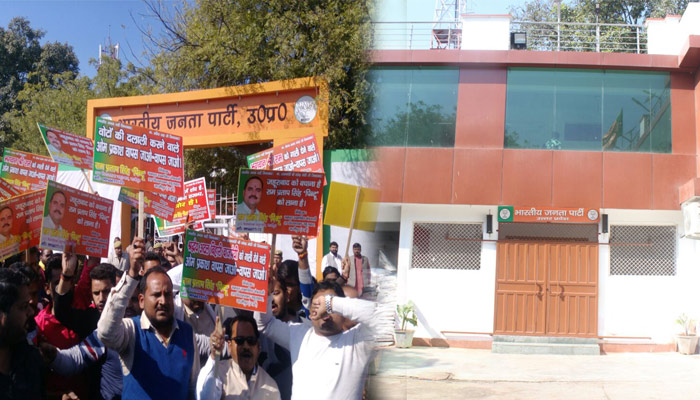 Ironically, the party president Amit Shah was scheduled to be in the state capital to release the election manifesto of the BJP. The manifesto would, however, be released at the Indira Gandhi Pratishtan at 1500 hours.
In slides ahead:

Pictures of the demonstration and locked BJP office...