Dimple joins Akhilesh Yadav, Rahul Gandhi's joint roadshow in Varanasi
Varanasi: After Prime Minister Narendra Modi, it was the turn of Uttar Pradesh Chief Minister Akhilesh Yadav and Congress Vice President Rahul Gandhi to claim the support of public through a joint road show here on Saturday.
For the first time, wife of Samajwadi Party President and SP MP from Kannauj, Dimple Yadav also joined Akhilesh and Rahul's roadshow in Varanasi.
The nine kilometres roadshow of Akhilesh and Rahul will begin from Kechahri in Ambednagar and will conclude at the Girjaghar Chouraha.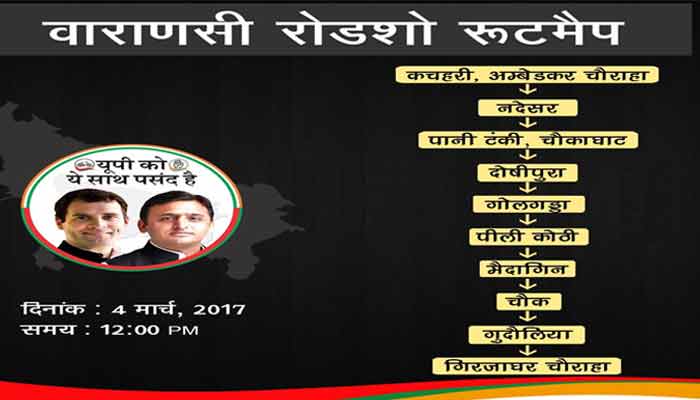 It may be mentioned that the parliamentary constituency of PM Modi, Varanasi will go to polls in the seventh and last phase of the Uttar Pradesh Assembly Polls on March 8.
This is the third joint roadshow of the two young leaders as Rahul and Akhilesh had earlier launched roadshows in Agra and Allahabad.
Out of 5 seats in the Varanasi Lok Sabha, Samajwadi Party won 1, BJP 3 in 2012 elections. Apna Dal lost Rohaniya assembly constituency to SP in the by-election.