UP CS Deepak Singhal was on a slippery wicket from day one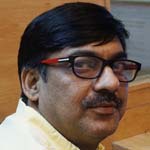 Sanjay Bhatnagar
Lucknow: Some spot reason may have triggered off the unceremonious exit of Uttar Pradesh Chief Secretary Deepak Singhal but the fact remains that it was always coming ever since he took over the charge of top bureaucratic post 68 days ago on July 7 last.
Singhal, an officer of questionable credentials, was never the first choice of the Chief Minister Akhilesh Yadav but managed to bulldoze his way in the manner he has been adept in. In fact, his closeness to Samajwadi Party chief Mulayam Singh Yadav and indomitable Amar Singh played over the discontent of Akhilesh.
The Chief Minister Akhilesh had his say finally who in a swift administrative decision, removed him from the post of the Chief Secretary on Tuesday and Rahul Bhatnagar had been appointed as his successor.
What followed was a series of incidents which displayed his 'uncontrolled' way of talking and over-the-top demeanour which expedited his fall. On many occasions, his 'loose talks' offended Chief Minister who had to exercise his utmost patience till he had to hand him the return ticket.
Singhal, on one occasion, called the CM as a child by heart as well as mind while in a function, he asked him to keep silent and listen to him. The UP CM did not try to hide his sarcasm when on more than one occasion, he mentioned his 'special talent' to manage the things 'his way'.
Not only the political masters, Singhal also rubbed officers on the wrong side by issuing 'outrageous' warnings like sending them to jail if they found wanting in probity and efficiency.
As the bureaucratic grapevine suggests, his visit to Noida and his uttering in the meetings with some of the officers had left his political masters fuming. In one of those meetings, he boasted of having close relations with the CM so much so that he used to talk with him at least eight times a day.
ALSO READ:
Palace intrigues in UP: CS Singhal has his way with predecessor
UP chief secretary Singhal pays pre-announced 'surprise visit'
Deepak Singhal, a 1982-batch IAS officer, had met Samajwadi Party President Mulayam Singh Yadav in New Delhi , a day before he was removed, and also after handing over the charge,he rushed to meet him. What transpired between them and what it had to do with the decision to divest him of the coveted post will remain a speculation.
He is succeeded by a 1983-batch IAS Rahul Bhatnagar, who has a clean image compared to him with no strings attached.