LIVE: Manoj Sinha 'Out', Adityanath, Keshav Maurya lead in UP CM race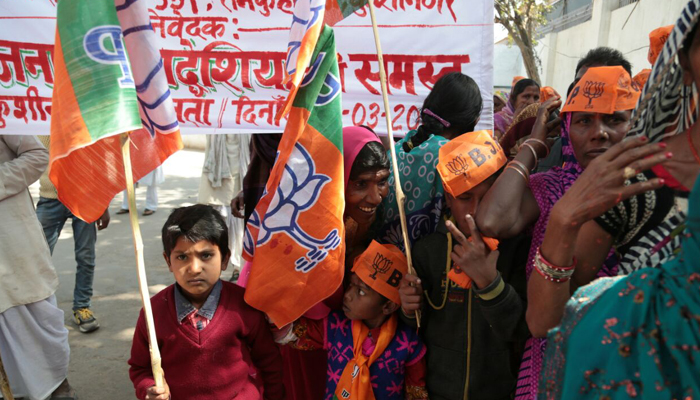 Lucknow: Who will succeed Akhilesh Yadav as the new chief minister of Uttar Pradesh? This remains the biggest suspense as nearly a week after registering an emphatic win in the just concluded state assembly polls, the Bharatiya Janata Party still maintains silence over this issue.
Senior party leader Manoj Sinha is out of the race for the Uttar Pradesh Chief Minister's post and he will go back to Delhi from Varanasi. Meanwhile, the names now coming on the top are of party's state unit chief Keshav Prasad Maurya and the firebrand leader Yogi Adityanath.
Meanwhile, party leaders have started reaching the state capital to attend the legislature party meet to be held at 5.00 pm on Saturday where the CM will be picked unanimously.
Live Events:
Senior party leaders Venkaiah Naidu and Bhupendra Yadav, who have been appointed as the "special observers" for the meeting, have reached Lucknow in the morning.

Taking a jibe at Rahul Gandhi, Venkaiah Naidu said that the Congress had been run by Rahul Gandhi for the past 10 years. He added that Sonia Gandhi is the party chief for the namesake.

Keshav Prasad Maurya reached the party headquarters from Delhi. When asked about his name coming for the CM's post, he said, "There is no decision yet. It will be decided during the legislature party meet."

School kids along with supporters raise slogans, raising their demand of elevating Keshav Prasad as UP CM.

A section of people are also chanting slogans in favour of Yogi Adityanath and Union Home Minister Rajnath Singh.

Party MLAs have started reaching the BJP office.

Yogi Adityanath reached party office.
It may be mentioned that Mayawati's home ground, Smriti Upwan has been booked as the venue for the oath taking ceremony which will take place on March 19th at 2.15 pm.
Picture: Stage set at Lok Bhawan for the BJP's legislature meet
IN SLIDES: Pictures of party workers supporting their favourite leader for the CM post...