Yogi is also studying 'Madhya Pradesh Model' along with 'Gujarat Model'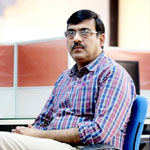 Sanjay Bhatnagar
Lucknow: The talks of 'Gujarat Model' is cliche! Yogi government in Uttar Pradesh has also been studying the 'Madhya Pradesh Model'.
In fact, the political emergence of Narendra Modi in the national scene gives rise to the debate on 'Gujarat Model' every time, the new government comes to power in any of the states in the country. Uttar Pradesh is no exception and Yogi himself has supported the 'Gujarat Model' but before finalising any particular model, he intends to study 'MP model' side by side .
UP Chief Minister Yogi Adityanath has asked his officials to obtain list of about 57 development and welfare schemes being run in Madhya Pradesh by Shivraj Singh Chauhan-led Bharatiya Janata Party (BJP) government. Of a total of about 80 schemes, the state government has about 57 schemes, some of them are very popular and effective.
Also Read: CM Adityanath announces removal of 'Samajwadi' tags from projects
According to an official spokesman, the whole exercise is in the initial study stage only as the officials have been asked to find out how many schemes of such nature are already implemented in Uttar Pradesh. ''The thought process behind this is that both the states have many commonalities in terms of geo-political, geo-social, language and the general population,'' he said adding, "It seems to be a logical thing to do when it comes to pro-people schemes."
It is not that the 'Gujarat Model' is not under consideration but the new schemes in Uttar Pradesh may be announced only after the study of MP schemes, it is learnt.
Some of the popular Shivraj Singh Chauhan government's schemes included MP Public Service Guarantee Scheme, Ladli Laxmi Yojna, Mukhyamantri Kanyadan Yojna, Deendayal Kitchen Scheme (to begin today to provide meal to people for Rs 5 per plate on the pattern of Amma kitchen), MP Housing Guarantee scheme (bill was passed in the budget session to put in place an Act), Mukhyamantri Vidushi Yojna,Mukhyamantri Teerth Darshan Yojna, Mukhyamantri Yuva Udyami Yojna, Mukhyamantri Swarozgar Yojna, Balram Talab Yojna and Shaktimaan Yojna.