Uttar Pradesh is unfortunate to be ruled by SP, BSP: Amit Shah
Lucknow: Taking a broadside against Akhilesh Yadav-led Samajwadi Party government in Uttar Pradesh, the BJP President Amit Shah on Saturday said that it was misfortune of this magnificent state that it was ruled by SP and Bahujan Samaj Party for so long.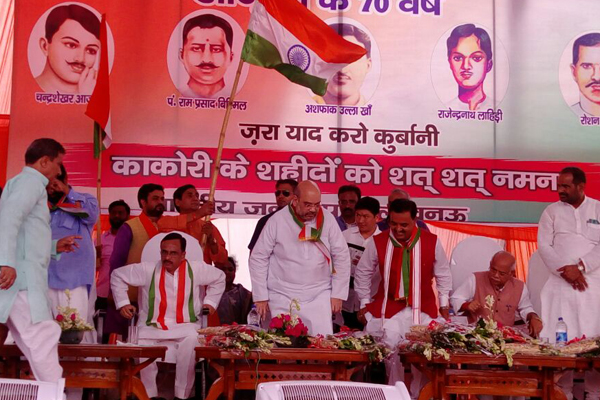 "I do not see any positives with the present ruling dispensation in UP which is marred by corruption, crimes against women , goondaraj and growing wpes of farmers,'' he said while speaking at Kakori Martyrs memorial about 30 kms from the state capital during 'Tiranga Yatra' of the saffron party on completion of 70 years of independence.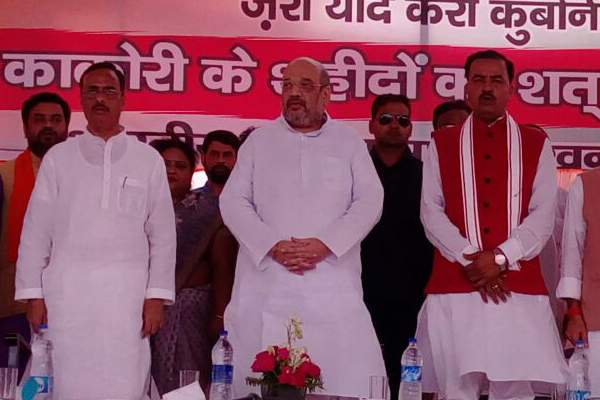 "What for SP was in power in Uttar Pradesh when it could not provide security to its people especially the women folk and comfort the peasant class in the times of adversity," the BJP chief while commenting the law and order of UP was its abysmally low. It was the most appropriate time for the electorate of UP to lend its support to Bharatiya Janata Party in the next assembly elections.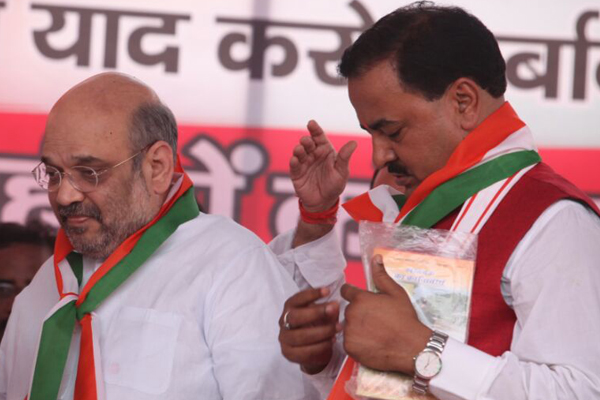 What else Amit Shah said:
SP and BSP had no development agenda of substance.

The corruption and castiesm are the key words for these parties.

Both the parties had been utter failures when came to power.

BJP offers a potent alternative to these parties as far as governance of UP is concerned.
UP BJP President Keshav Prasad Maurya, who was also present on the occasion, echoed the similar sentiments lambasting Akhilesh government for its failure to security to girls and women.
Shah unfurled the tricolour there and also garlanded the statues of Ram Prasad Bismil, Ashfaqulla, Sachin Das Lahiri, Chandrashekhar Azad, Rajendra Lahiri and Roshan Singh.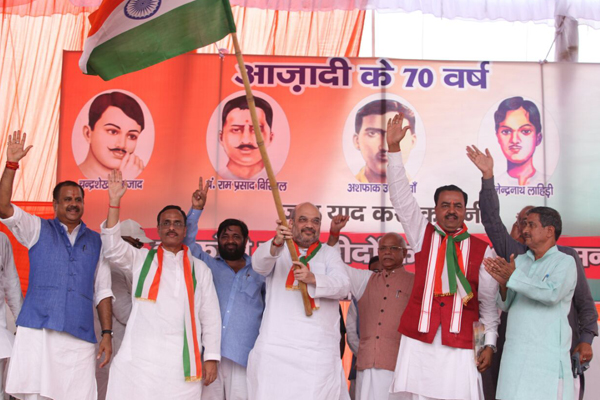 What can you say about the government that has failed to instill a sense of safety and security among the women lot.

There was an absolute jungleraj in UP where criminals ruled the roost, Maurya said.

UP deserved to match pace with the development being taken place in the country under Modi regime.
Amit Shah also made an announcement to convert Kakori as a tourist place in the memory of freedom fighters like Ashfaqulla who laid there lives for the country.