14 coaches of Utkal Express derail in Muzaffarnagar; 23 dead
Lucknow: At least 23 persons were killed and about 83 injured as 14 coaches of the Haridwar bound Kalinga-Utkal Express went off the tracks in Khatauli in Muzaffarnagar district of Uttar Pradesh on Saturday evening.
Railway Minister Suresh Prabhu said that the massive rescue and relief operations have been ended with the people injured were shifted to the hospital.
https://twitter.com/sureshpprabhu/status/898975283059052544
Prima-facie, the negligence from railway maintenance staff is emerging out the reason behind the accident. It emerged that the driver of the train was not aware about the maintenance work being carried out at the accident spot.
The railways, however, is examining all possible reasons for the derailment.
The accidental site is about 25 km from Muzaffarnagar district headquarters and about 100 km from Delhi railway divisions under northern railways.
"The incident took place at 5:50 pm on Saturday. 14 coaches derailed and cause of accident is yet to be ascertained," said Anil Saxena, spokesperson, Railways.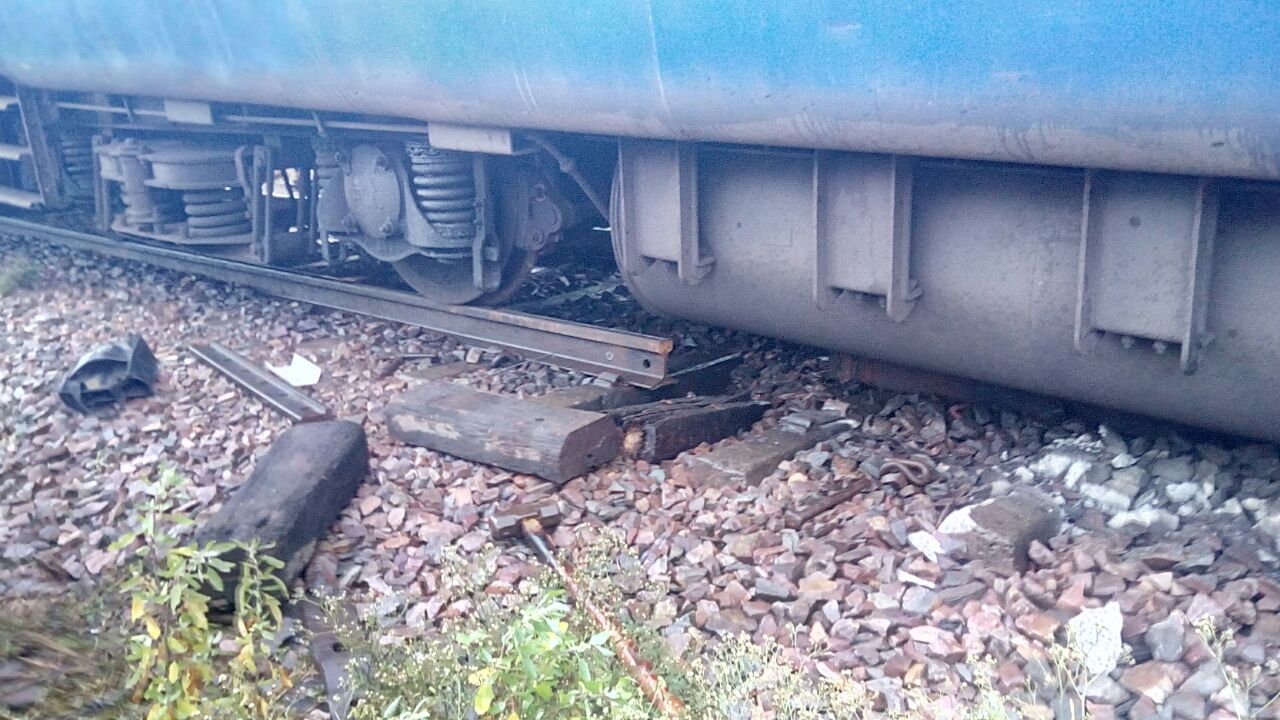 Railways were engaged in a grim battle for rescuing those trapped by deploying heavy gas cutters and other equipments to break open into the coaches.
The train was headed from Puri in Odisha to Haridwar in Uttarakhand.
The impact of the accident was so severe that one of the coaches could be seen mounted on another while another coach had crashed into a building along the tracks.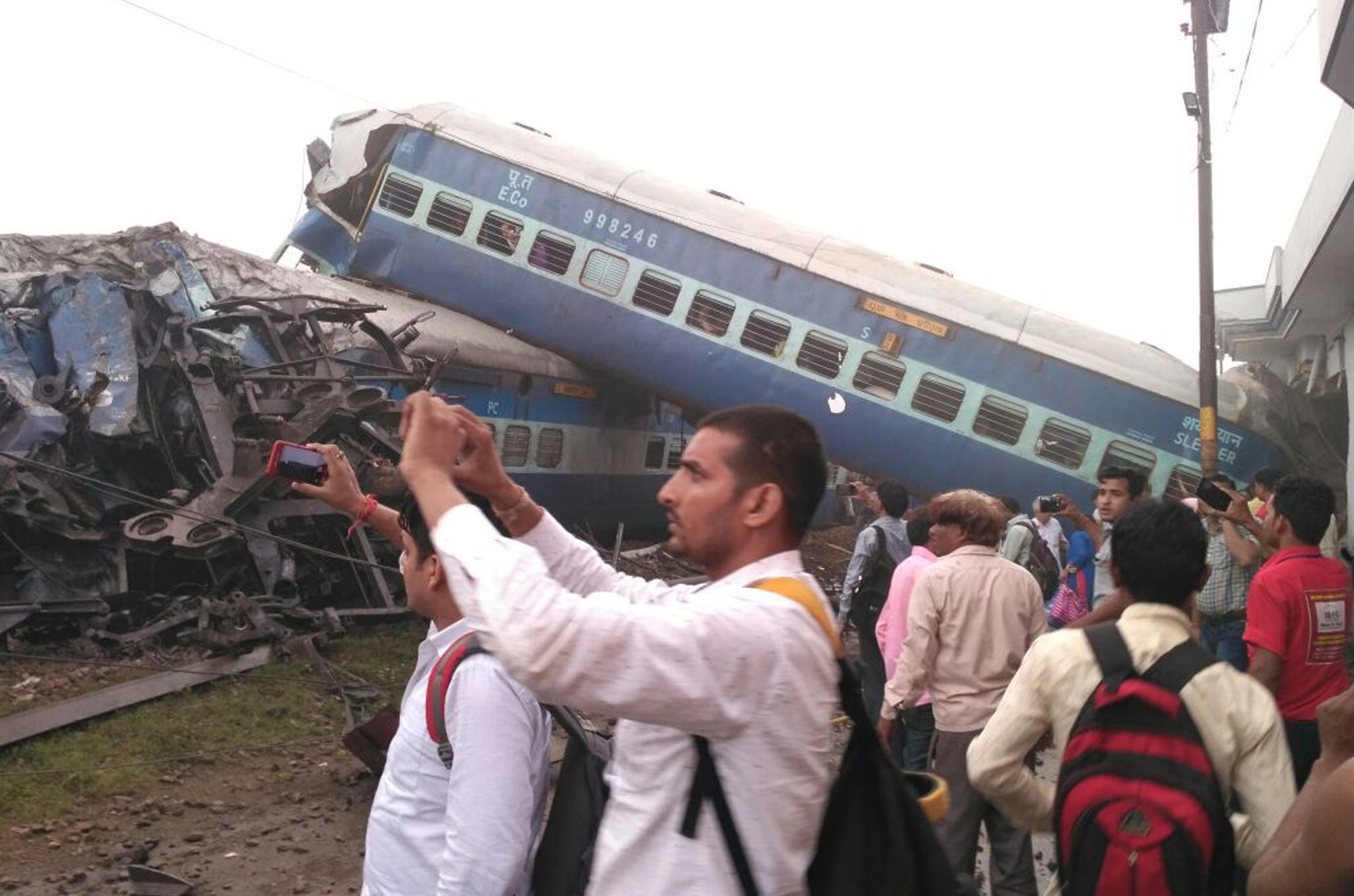 Uttar Pradesh Chief Minister Yogi Adityanath has enquired about the accident and has directed all possible action. "Sad incident, injured passengers will be given complete treatment. Directions issued for all possible assistance," said UP CM.
Soon after the news of accident floated, Yogi Adityanath had directed UP ministers Suresh Rana and Satish Mahana to rush to the train accident site. He had also talked to the District Magistrate and instructed for all possible relief to affected people.
Hospitals were instructed to provide free treatment to injured passengers.
CM Yogi Adityanath has announced Rs 2 lakh for the families of the deceased and Rs 50,000 for those injured. Adityanath is expected to reach Muzaffarnagar on Sunday to inspect the accidental site.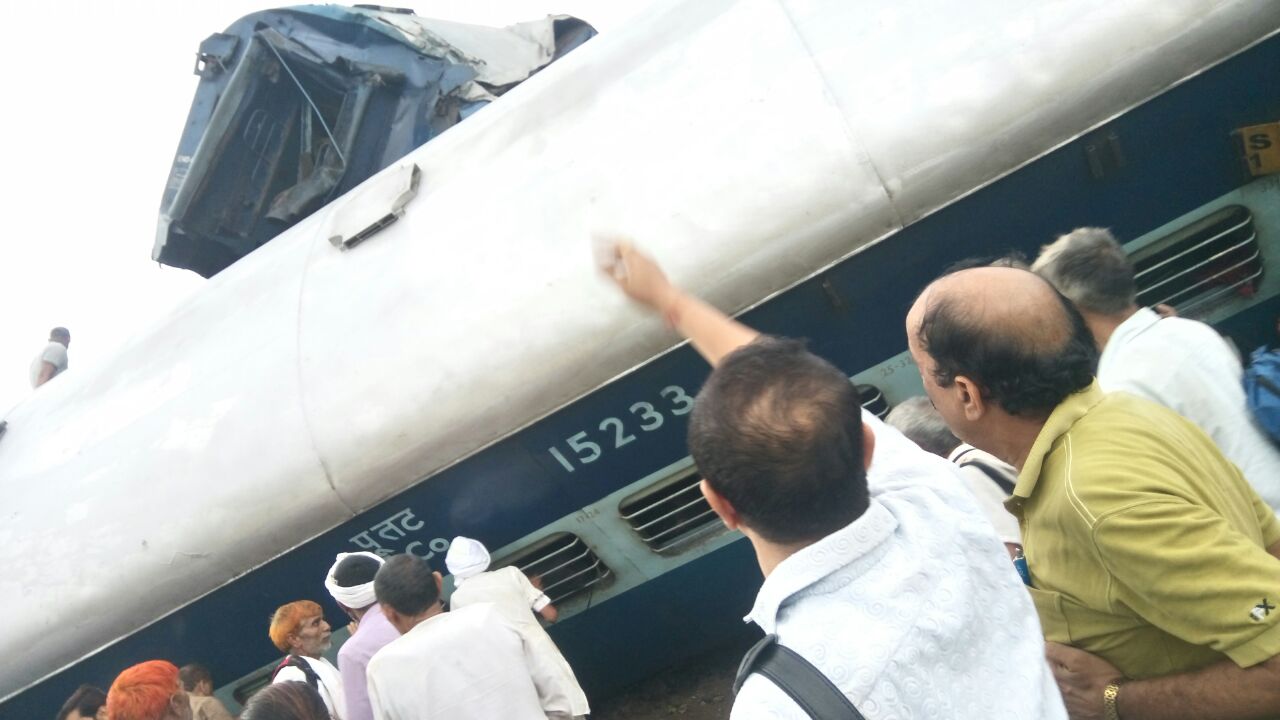 The railways and the police summoned all equipments including heavy lift cranes and gas cutters to access the affected coaches and cut through them to bring passengers to safety.
NDRF teams have been mobilized for rescue operation at Khatauli railway station in Muzaffarnagar. About 65 ambulances, bread butter, 1000 food packets, extra private SRTC buses, volunteers have been mobilized from Meerut.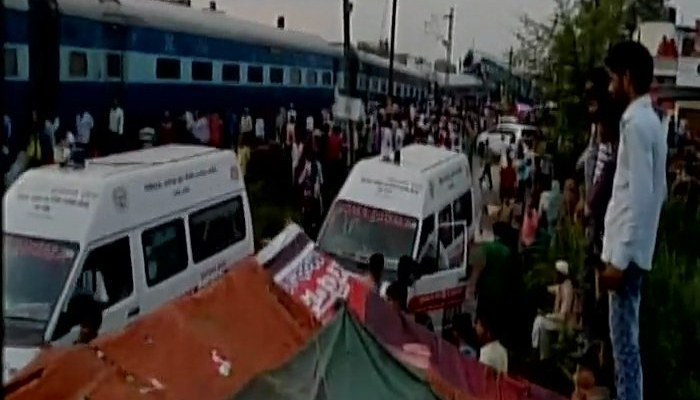 A team of Uttar Pradesh Anti Terrorist Squad (ATS) had also visited the train derailment site to probe into terror angle behind the mishap. Nine PAC companies reached Khatauli to speed up rescue operations.
Additional Superintendent of Police, Muzaffarnagar, Ajay Kumar said that police teams were trying to rescue as many passengers trapped in the coaches as possible.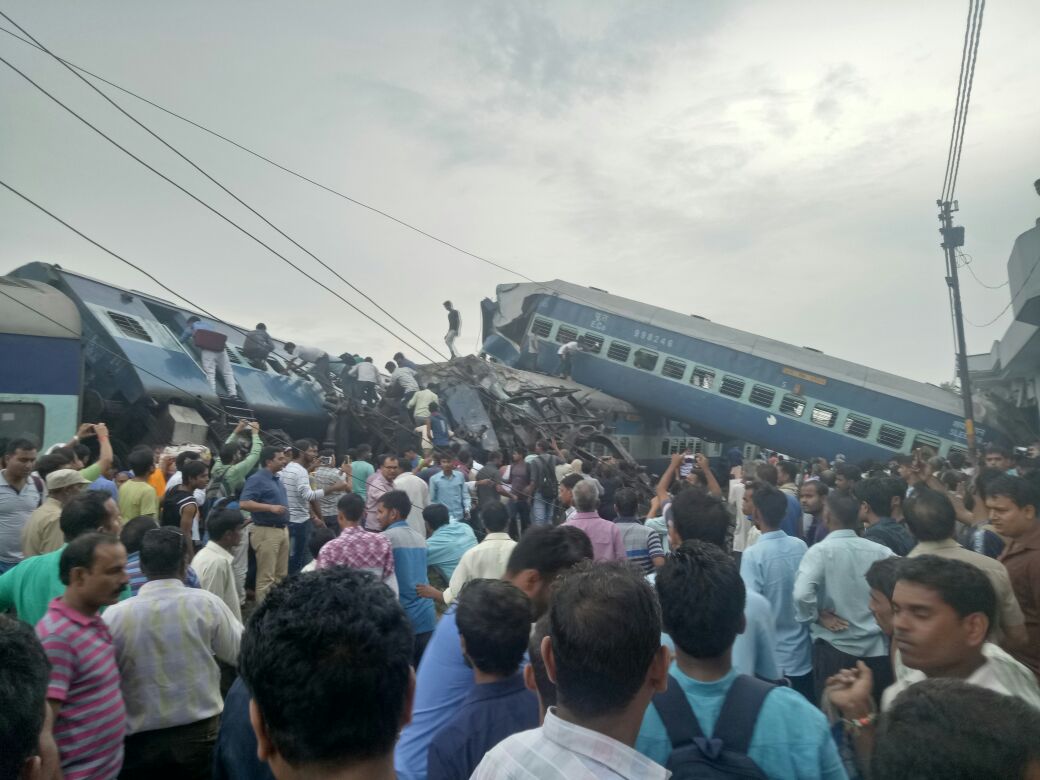 "Have mobilised medical services, instructed CMOs Meerut Muzaffarnagar to ensure all help extended," said UP minister Sidharth Nath Singh.
"I have seen few dead bodies, can't say the exact number, many injured. Manoj Sinha has left from Delhi," Muzaffarnagar BJP MP, Sanjeev Balyan.
Chairman Railway Board, Member Traffic, Engineering, DG, Health are among other senior officers who have reached the spot for all possible help.
The government has issued the helpline number (9760534045/5101). Meerut district hospital also opened helpline number +919454455183. ADM Muzaffarnagar Sunil Kumar Singh has also released helpline numbers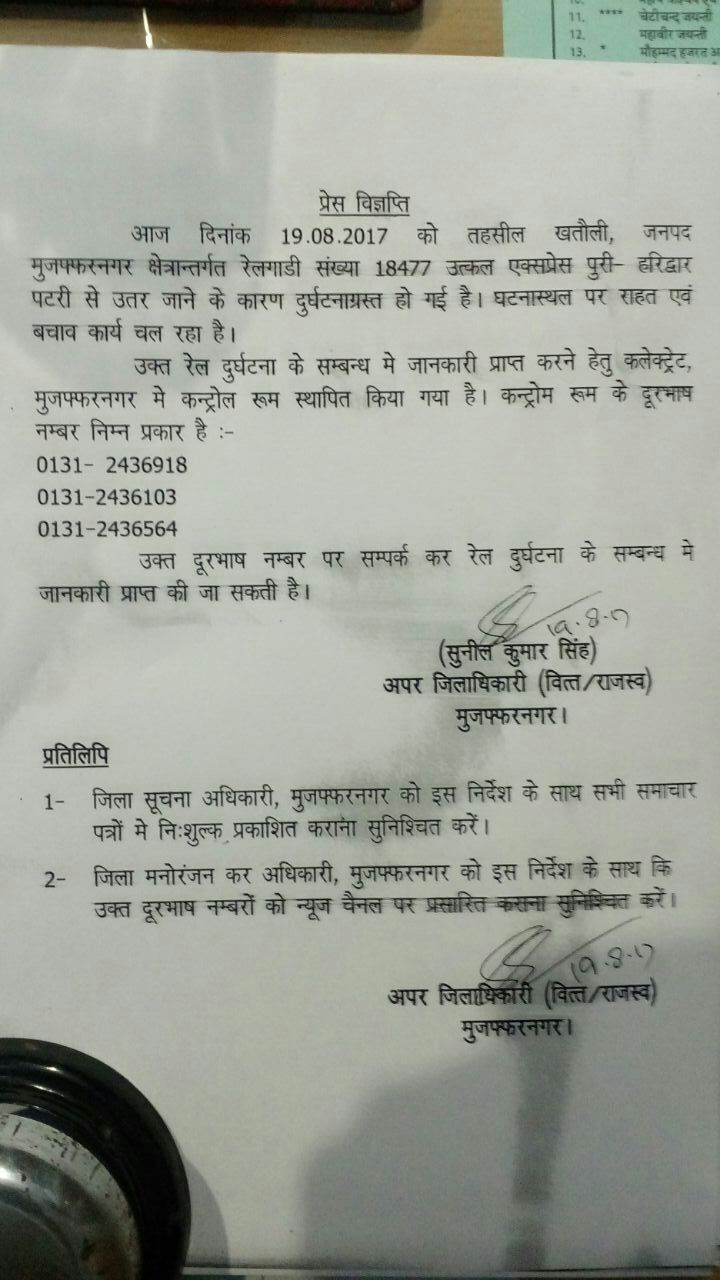 https://twitter.com/Uppolice/status/898899275370962944
Railway Minister Suresh Prabhu said that he is monitoring the situation and directing officials for speedy relief operations.
In order to ascertain the cause behind the unfortunate accident, Suresh Prabhu has ordered enquiry into Muzaffarnagar train derailment.
"Strict action will be taken against any lapse," he said.
"Have spoken to railway minister Suresh Prabhu and the UP health minister. Centre is ready to provide all the support," said Health Minister JP Nadda.
Railway Minister has announced ex gratia of Rs 3.5 lakh for the deceased and Rs 50 thousand for critically injured. Those who got minor injuries will be given financial assistance of Rs 25 thousand.
https://twitter.com/sureshpprabhu/status/898897484927221760
https://twitter.com/sureshpprabhu/status/898897797834981376
https://twitter.com/sureshpprabhu/status/898898367429750786
Expressing pain over the train accident, Prime Minister Narendra Modi wished for the speedy recovery of injured.
https://twitter.com/PMOIndia/status/898917198562902016
https://twitter.com/PMOIndia/status/898917362400808960
https://twitter.com/PMOIndia/status/898917501429362688
President Ram Nath Kovind has also expressed grief at loss of lives in the Khatauli train accident.
https://www.youtube.com/watch?v=hqi3Tenhn2M&feature=youtu.be&ab_channel=Newstrack
Check pics of train derailment in slides: