Simhasth Mahakumbh: Stubborn sadhu sanding on legs for 10 years
Ujjain: Demonstrating ability to conquer hunger, thirst, sleep and practicing Yoga skills of different kinds, the 'Hath Yogis' at the Simhastha mahakumbha( religious congregation) are a centre of attraction for millions of Hindu devotees.
The Vanshgiri Baba is one of the 'Hath Yogis' at the Mahakukmbha who claims to be standing on his legs for last 10 years for the peace and prosperity of the country.
The claims of Vanshgiri Baba
The Vanshgiri Baba claims to have been on his legs since 2006.

He even sleeps standing and eases off himself standing.
About this stubborn sadhu:
He belongs to Atal Akhada in Uttar Pradesh.

He was inclined towards religion since childhood.

Vanshgiri was drawn to Sanyas in 1994 which was not liked by the family.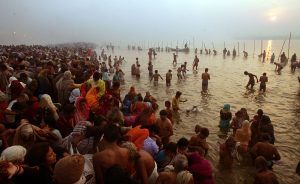 The practise:
Initially he could stand just for a day after a week's practice.

He is standing since 2007 and takes the support of a swing string to sleep.
Everything for the country:
Talking to photojournalist Ashutosh Tripathi of newztrack.com, the baba said, "Saints do everything for the peace and prosperity of the country".