Sustainable Development in the Era of Globalization
"Sustainable development is a development that meets the needs of the present, without compromising the ability of future generations to meet their own needs."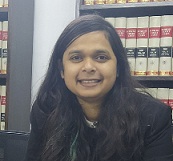 Shourya Rajput
"Sustainable development is a development that meets the needs of the present, without compromising the ability of future generations to meet their own needs."
At its core, sustainable development is a method of balancing different and competing needs with social, economic and environmental limitations.
Since people at large fail to see the wider and future impacts of development, the damage are already be seen, ranging from changes in global climatic conditions due to our dependency on fossil fuel-based energy sources to large scale financial crisis caused by irresponsible banking. The longer we follow unsustainable development, the harsher its consequences are likely to be. Hence, quick action needs to be taken for the same.
Article 21 of the Constitution of India provides the Right to Wholesome Environment and it is a Fundamental Right. The development comes by industrialization, and industrialization and this is the main reason behind environmental degradation. But the main question is, how can we protect the environment at a time when almost all South-East Asian countries are still developing? This is where the doctrine of 'Sustainable Development' plays its role, i.e. it is important to make a balance between ecology and development.
Two basic needs on which the principle of sustainable development works are:-
1.Socio-economic development.
2.Need to impose limitations according to the environment's capability to cope with the requirements of the present and future generations.
Balancing development and sustainability is a huge challenge for people. In the era of competitive industrial development, the protection of limited natural resources and the environment is a very challenging situation. International and regional communities have time and again tabled their concern at various international forums to check and balance the degrading quality of the environment. Various conventions, declarations, and treaties have been signed and ratified as a step forward for sustainable development. Even in India, various Constitutional, Legislative and Judicial steps have been taken to take care and maintain the balance between sustainability and development. The unrestricted and imbalanced development is leading to the degradation of the environment and henceforth, violating people's right to live in a pollution-free, wholesome environment. The study of liability provisions in various countries points out the liability of a corporation and the state in cases of accidents, which aims at restituto in integrum.
INTERNATIONAL LAW AND SUSTAINABILITY
International law is an increasingly important mechanism in the quest for sustainable development. The Stockholm Declaration UN Conference on Human Environment 1972 containing 26 principles opened a flood gate for the sustainable development for the protection and promotion of the environment. To achieve sustainability Vienna Convention, to prevent the depletion of the ozone layer was concluded in 1985 followed by the Montreal Protocol in 1987. Meanwhile, World Conservation Strategies jointly in 1980 by the IUCL, WWF, UNEP aim to help advance the achievement of sustainable development through the conservation of living resources. The World Commission on Environment was established in 1983 by the UN General Assembly. The report of WECD 1987 produced document caring for the Earth- a strategy for sustainable living. The document defined and explained for the concept of the sustainable development . According to this report- " The environment development conflict is more apparent than real as poverty is the worst enemy of environment, its elevation requires human intervention which natural ecosystem during development, settled agriculture was perhaps the most massive intervention with the ecosystem but the later was not destroyed as nature's regenerative power have been immense. It is when the intervention is both massive and threatens life support system both globally and locally that problem arises at minimum the sustainable development must not endanger the natural ecosystem."
Based on the Brundtland report and other international documents prepared at Earth Summit at Rio de Janeiro, the following have been accepted to be the contents of "sustainable development"-
1.Intergenerational equity
2.Use and conservation of Natural Resources
3.Protection of Environment
4.The Precautionary Principle
5.The Polluter Pays Principle
6.Obligation to Assist and Co-operate
7.Eradication of Poverty
8.Financial Assistance of Developing Countries.
The term 'sustainable development' was brought into common use by the World Commission on Environment and Development (Brundtland Commission) in its seminal 1987 Report our common future.
1-Inter-Generational Equity: The basis of this principle is a presumption that the right of each generation to benefit from natural and cultural resources of the past generation comes with an obligation to preserve these resources for future generations. This principle focuses on the conservation of renewable resources and biodiversity. The origin is from Principles 1 and 2 of the Stockholm Declaration, 1972.
2-Use and conservation of Natural Resources: This principle provides that natural resources should be preserved and used wisely in such a way that the needs of the future generations are also not compromised. It is pertinent to remember that the natural resources are already depleting and there is a possibility of having an acute shortage of these resources in the future due to overpopulation, industrialization, poverty, etc. Therefore, it is necessary to reduce the use of natural resources by developing technologies and techniques which may help in this. It is provided in Principle 23 of the Rio-Declaration, 1992 that the environment and natural resources of people under oppression, domination, and occupation, shall be protected by all means.
3-Protection of Environment: The most important part of sustainable development is environmental protection. Environment protection laws have been enacted by countries across the globe to ensure sustainable development. However, an effective environmental protection mechanism is what we need to reinforce sustainable development. It can be widely seen that the poor sections of the society are most affected due to degradation of the environment since a large part of their livelihood comes from natural resources, i.e. forests, water, noisy slum dwellings, etc. The policy decisions in the water resources, agriculture, energy and power sectors must be taken wisely to ensure that the natural environment is not degraded any further.
4-The Precautionary Principle: According to the precautionary pay principle, "where there is the threat of serious or irreversible environmental damage, lack of full scientific certainty should not be used as a reason for postponing measures to prevent environmental degradation."It has been defined in Principle 15 of the Rio Declaration, 1992." In other words, any human activity or behavior, which bears the harmful effect on the environment, has got to prevent at all costs.
Supreme Court explicitly recognized the precautionary principle in the Vellore Citizen Welfare Forum v. Union Of India case, as a principle of Indian environmental law in several subsequent cases. Justice Kuldeep Singh of the Supreme Court in Vellore Citizens case laid down the following rules concerning precautionary principle:-
a.The State Governments and local authorities are supposed to anticipate and then prevent the cause of environmental degradation. They are supposed to check the activity, which is damaging to the environment;
b.Merely because there is a lack of scientific knowledge as to whether a particular activity is causing degradation, it should not stand in the way of the Government;
c.The onus of proof is on the actor (i.e. person who does the activity) or the developer/industrialist to show that the action was environmentally friendly.
5-Polluter Pays Principle: This principle provides that the one who produces pollution, will have to bear the cost of managing that no damage is done to health or environment. This method was considered to be one of the best pollution prevention methods. But there was a practical difficulty in assessing the maximum limit on payment of damages and the scope of applicability of this principle.
The "polluter pays" principle was recognized as an integral part of the sustainable development by the international community and was incorporated as Principle 16 of the Rio Declaration of Earth Summit, 1992.The Supreme Court in M.C. Mehta v, Kamal Nath , observed that the 'polluter pays principle has been recognized as the fundamental objective of the Government's environmental policy to prevent and control pollution. The Court, in this case, observed that the calculation of environmental damages should not be based on the claim put forward by the party, but it should be based on examination of the situation by the Court, keeping in view the factors such as deterrent nature of the award.
6-Obligation to Assist and Co-operate: This principle has been specifically incorporated in Rio-Declaration (1992) as Principle 9 which provides that the States should co-operate to strengthen indigenous capacity building for sustainable development by improving scientific understanding. It is important to enhance development, transfer of technologies, and exchange of scientific and technological knowledge.
7-Eradication of Poverty: Poverty is perhaps the worst contributing factor for polluting the environment and causing its degradation. Smt. Indira Gandhi, the late former Prime Minister of India, addressing the Stockholm Conference on Human Environment in 1972 said, "of all pollutants we face, the worst is poverty". The Brundtland Report also attributed poverty as a potential cause of environmental degradation as it reduces people's capacity to use resources in a sustainable manner, which eventually brings more pressure on the environment and results into its deterioration. The problem of poverty is being faced by many developing nations and this is harming environmental quality.
SUSTAINABILITY AND ECONOMIC GROWTH
The term sustainable development has been used been economists to clarify the need for a balance between economic growth and environmental protection. Instead, economic policymakers need to frame a strategy to ensure sustainable development where there is no net loss of environmental assets. This strategy should be such that if natural resources are depleted or destroyed in a particular region, an equal or greater amount of natural resources are regenerated so that the needs of the future generation are not compromised. In the 20th century, standards of living rose immensely and the global economic output multiplied manifold. However, a huge price had to be paid for it and it was built on unsustainable energy resources- metals, fuels, water, and minerals.
The world population is being estimated to reach about nine billion by 2050. It is, therefore, necessary for developed and developing countries to act together to meet the challenge of sustainable development. If this challenge is not met, an equivalent of two planets will be needed to sustain us. Sustainability is a precondition for development and should be taken as a choice. Our planet needs a green growth and gainful employment opportunities for millions of the people who currently live in poverty but whom rightly aspire to a better and prosperous future and also to ensure decent standards of living for the generations to come. There are various threats and challenges to sustainable development ranging from scarcity of water to natural disasters, ecosystem loss, and climate change.
As a country, India is already working towards sustainable development and follows sustainable consumption and production patterns. It has been a leading country in the sustainable management of forests, reducing emissions intensity and preserving biodiversity.
The three pillars of Sustainable Development are:
•Environmental: environmental goods and services should not be exploited beyond carrying capacity; pollutants should not be loaded beyond absorptive capacity.
•Economic: strong economic performance and stewardship essential for generating resources required for sustainable development.
•Social: recognizes that development also needs enhancement of human capabilities and enlargement of choices available to them. Also, social objectives are part of the equality of life that people value.
ROLE OF GOVERNMENTS AND NGOs IN SUSTAINABLE DEVELOPMENT
Sustainable development can be achieved by enhancing gains from different products rather than getting them from a single product. For this purpose, the various departments of the Government need to come together and work as a multi-disciplinary authority. This requires transparency, coordination, and joint planning by all the Government departments. For proper planning and implementation of sustainable development, there should be partnerships between civil society institutions, i.e. CBOs, trade unions, NGOs, research institutions, academic institutions, etc.
The NGOs and various civil society groups have proven to be a major driving force behind international cooperation by supporting international agreements and also bringing public support for the same. Civil society has always actively participated in global governance, but in the recent few years, participation has significantly increased. NGOs have been existing for over two centuries, however, the recent rate at which the number of NGOs is increasing is notable. There needs to be a more formalized and strengthened structure for enhancing participation and contributions from civil society. The involvement of civil society is needed even for seeking the legitimacy of policies of UN programs. The role of NGOs and other civil society members can be acknowledged only by an improved governance structure.
On one hand, there are a plethora of laws which are mostly irrelevant and outdated, on the other hand, there is a lack of effective enforcement mechanism concerning laws relating to contemporary issues. Therefore, it is necessary to review these laws, eliminate those laws which have become outdated or irrelevant and simplify procedures for implementing relevant laws. The foundation of identifying and curing the defects in existing laws should be the learnings from international experience and internal reviews. However, it is important to note that providing laws is cannot be the solution to any problem, there has to be an effective enforcement mechanism for the implementation of these laws. Various traditional practices and systems need to be valued and recognized and these principles should be imbibed in the thinking behind developing and framing Governmental schemes and policies. Many policies that were framed before sustainable development became a major concern, need to be reviewed from the point of sustainable development. Any policies framed in the future need to keep in mind the Principle of Sustainable Development.
(Writer is a Delhi based Law Practitioner)