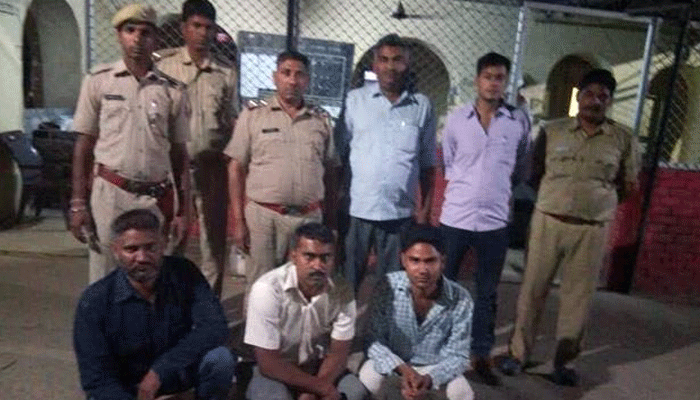 Rajasthan police arrests three accused in lynching case in Alwar
New Delhi: Three people have been arrested by police in Alwar city of Rajasthan for allegedly beating one Pehlu Khan to death on seeing the cows being mistreated by him.
The police stated that all three accused have confessed to their crime and agreed that they did the act in anger after seeing that the cows were not bein treated properly by the man.
The arrested trio of Vipin Yadav (19), Ravendra (32) and Kaluram (44) were residents of Behror area of the city where the incident happened. They were picked up on late Wednesday night from their homes.
In the preliminary interrogation the accused, however, have denied being associated with the Vishwa Hindu Parishad (VHP) or the Bajrang Dal.Senior police officers stated that the culprits were identified from the video that was circulated on social media where three of them were seen beating Pehlu Khan and others, while the other two were seen standing nearby.
Alwar's Superintendent of Police, Rahul Prakash, said the police have registered three FIRs — one against suspects who attacked Pehlu Khan, and one each against Khan and his family members for mistreating the animals. The SP further said that these names were given by Pehlu Khan in a statement to the police shortly before he succumbed to injuries at Alwar's Kailash Hospital on Monday last.
The top cop though denied any laxity on behalf of the department and defended the police stating, "I appreciate the Behror police because they immediately reached the location and saved the family members from the mob and provided medical help. Police registered the case same day."
The Alwar case:
Pehlu Khan, said to be in his fifties, was beaten up along with other members of his family by a group of alleged cow vigilantes on National Highway 8 in Rajasthan's Alwar district on Saturday last.
Pehlu Khan was being treated in Alwar's Kailash hospital where he succumbed to injuries on Monday evening.
The FIR against Pehlu Khan and his family members has been filed under the Rajasthan Bovine Animals (Prohibition of Slaughter and Regulation of Temporary Migration or Export) Act, 1995.
It is worth mentioning that the Rajasthan Bovine Animals Act, 1995 makes it mandatory to obtain a transit permit to transport bovine animals, including cows, out of Rajasthan, which according to the police the deceased and his family members did not have.
Keep yourself updated with latest news through Newstrack App. To download App from Google Playstore visit here - Newstrack App