Rafale lands India | Rajnath Singh says enemies need to worry now
The importance of its inclusion in the Indian Air Force can be judged by the confidence shown by our Defence Minister Rajnath Singh
Moment of pride for every Indian citizen as the Indian Air Force received the first five gamechanger Rafale jets which touched the Ambala airbase at around 3.10 pm on Wednesday. Flanked by 2 SU30 MKIs, the roar of Rafales was given a ceremonial welcome with water salute soon after it touched the Indian soil.
The importance of its inclusion in the Indian Air Force can be judged by the confidence shown by our Defence Minister Rajnath Singh who, without naming Pakistan and China, said that enemies need to worry and India can now deter any threat.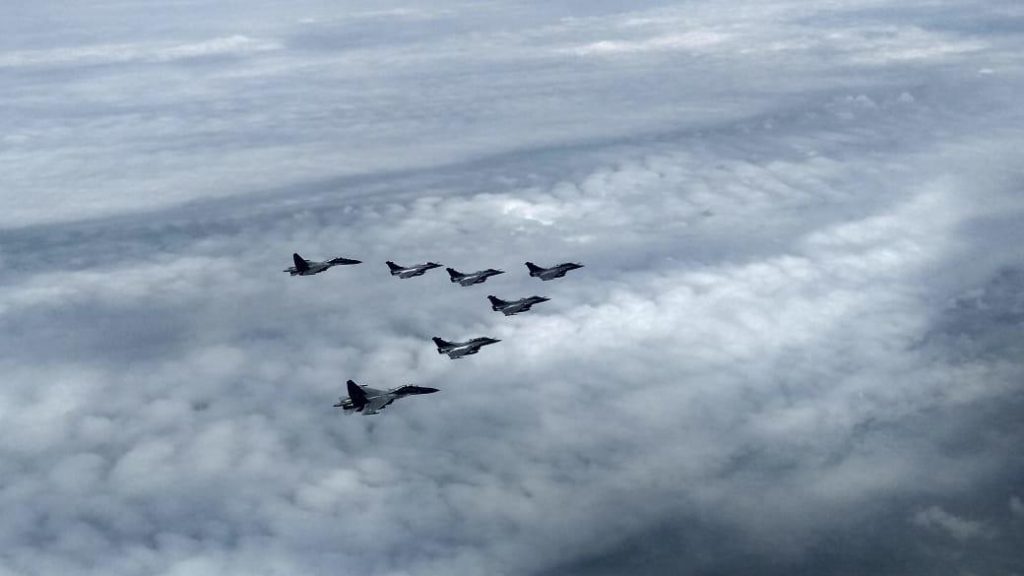 In a series of tweets, he said, "The Birds have landed safely in Ambala. The touch down of Rafale combat aircrafts in India marks the beginning of a new era in our Military History. These multirole aircrafts will revolutionise the capabilities of the @IAF_MCC. I congratulate the IAF on a professionally executed ferry. I am sure that 17 Squadron, the Golden Arrows, will continue to live upto their motto of "Udayam Ajasram". I am extremely happy that IAF's combat capability has got a timely boost. I also thank the French Government, Dassault Aviation and other French companies for ensuring the timely delivery of the aircraft and its weapons, despite the severe restrictions posed by COVID pandemic.
The Rafale jets were purchased only because PM Shri @narendramodi took the right decision to get these aircrafts through an Inter-Governmental Agreement with France, after the long pending procurement case for them could not progress. I thank him for his courage & decisiveness.
This aircraft has very good flying performance and its weapons, radar and other sensors and Electronic Warfare capabilities are amongst the best in the world. Its arrival in India will make the IAF much stronger to deter any threat that may be posed on our country. The Rafale jets were purchased when they fully met the operational requirements of the IAF. The baseless allegations against this procurement have already been answered and settled. I would like to add, if it is anyone who should be worried about or critical about this new capability of the Indian Air Force, it should be those who want to threaten our territorial integrity."
The Defence Minister also shared the video of touchdown of Rafales at the Ambala Airbase.
https://twitter.com/rajnathsingh/status/1288413583173234690
Below are the salient features of Rafale fighter jet:
- It's an Omni role aircraft.
-Game Changer.
-4th Generation Fighter Jet.
-It's a two engine aircraft.
-It's top speed is 2,222 Km/Hr.
-It can go up to 50,000 Ft.
-It's Rate of Climb is 60,000 Ft/Min.
-It's Operational Range is 3,700 Km with deep air support.
-Aerial Reconnaissance.
-Ground Support.
-In-depth Strike.
-Anti-Ship Strike
-Reach and combat radius is 1600-1700 Kms.
-Capable for Long Range standoff Mission.
-Equipped with Air-to-Ground Missile System.
-Fully capable to fulfill the urgent operational requirement of the Indian Air Force.
-Specifically designed to take off from extremely cold high altitude region.
-It gives the ability to engage enemy fighters from distance without being trapped.
-It can carry best air to air missile.
-It will also be fitted with the air-to-air beyond visual range interception combat and self-defence missile.
-It can also carry the best long range air-to-land missile.
-It has multi-directional radar system which can detect 40 targets at the same time in a range of over 100 Kms.
-It has advance radar warning receiver to identify hostile tracking system a towed decoy system to thwart incoming missile attacks.
-Rafale will ensure that our pilots will not have to cross the border to strike the target, that is about 600 Km in enemy territory.
-It will get French industrial support for 50 years.