PM Modi inaugurates the Indian Science Congress in Tirupati
Prime Minister Narendra Modi on Tuesday will inaugurate the five-day annual Indian Science Congress at the Sri Venkateswara University in Tirupati.
Hyderabad: Prime Minister Narendra Modi on Tuesday while inaugurating the five-day annual Indian Science Congress at Sri Venkateswara University in Tirupati said that by 2030, the Nation will be among top three countries in the world in the field of Science and Technology.
Hoping India's best scientific institutions to strengthen basic research, PM Modi said his government will support different streams of scientific research.
General President of Indian Science Congress Association (ISCA) Professor D Narayana Rao said that the theme of the 104th Indian Science Congress was 'Science and Technology for National Development'.
What else PM said at the event?
Nation will always be thankful to scientists who have worked brilliantly to empower our society by their vision, efforts, and leadership.

Future genius will come from the investments we make today in our people and infrastructure.

Our ministries, scientists, Research and Development institutions and IITs should work together for the development of the country.

The technology could be used in more appropriate way with the help of our infrastructure and socio-economic ministries.

Foreign and NRI students should also be involved for the post-doctoral research.

A strong scientific infrastructure should be build to deliver science.

Science and technology is a key factor in the start-up India programme.

An environment should be created for sharing the ideas and innovations.

Seeding the power of ideas and innovation in children will sharpen their brain which will help them to secure their and our nation's future too.

Our strong scientific community can address our unique challenges. Can we find farmer-centric solutions for the problem of crop burning?

We must focus on waste-to wealth management for sustainable development.

Science and Technology for National Development should aim to convert agri and bio-waste to energy to provide electricity.

I'm sure that our scientists will raise their efforts. Let science and technology become a strong tool of inclusive development.

We also need to develop solutions and generate appropriate micro-industry products for local areas of the Nation.

We have achieved a high degree of self sufficiency in space technology, payload and satellite building.

In 2016, we developed 3.6m optical telescope in Uttarakhand made with Indo-Belgian collaboration.
He also visited the Sri Venkateswara Swamy Temple to offer prayer.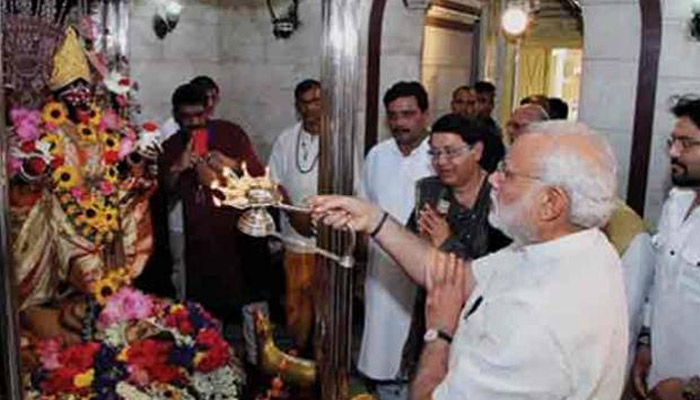 PM Modi felicitated the Nobel laureates at the same function.
He also inaugurated 'Pride of India' exhibition coinciding with the event.
Six Nobel Prize winners from US, Japan, France, Israel and Bangladesh along with 12,000 scientists took part in the mega event .
Andhra Pradesh Chief Minister N Chandrababu Naidu and Governor ESL Narasimhan were with Modi during his six-hour visit here.
Before leaving he had tweeted,"Leaving for Tirupati, where I will join the Indian Science Congress. Looking forward to interacting with scientists from all over India."