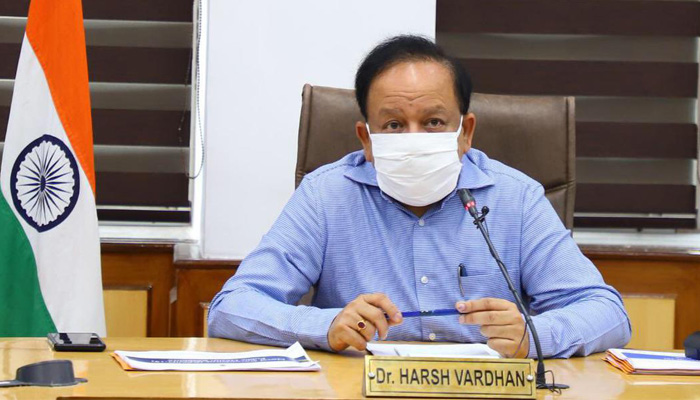 No Community transmission in India: Health Minister Dr Harsh Vardhan
New Delhi: Corona virus patients in India have crossed seven and a half million. With this, the new corona patients are increasing rapidly. Everyday a large number of people are also dying. No Community transmission in India: Health Minister Dr Harsh Vardhan informed.
Meanwhile, Union Health Minister Dr. Harsh Vardhan has claimed that there has not yet been community transmission of corona virus in the country. He also said that 90 percent of active cases are in only 8 states of the country. Today our recovery rate is 62.08 percent, our death rate is the lowest in the world at 2.75 percent. Our dabbling rate is 21.8 days.
Virus can move in the air in small droplet: Harsh Vardhan
The World Health Organization (WHO) on Tuesday acknowledged for the first time that the corona virus is also spreading through the air.
ALSO READ: Priyanka Gandhi demands CBI probe into Vikas Dubey Case
After this, the concerns of the people increased. He began to suffer the risk of infection. However, Indian experts say that there is no need to panic.
Rakesh Mishra, director of CSIR-Center for Cellular and Molecular Biology (CCMB), says that the claim so far has shown that it can move in the air in small droplets of less than five macrons and It will remain in the air for a few minutes in the form of big drops.
ALSO READ: Rupee gains 3 paise to close at 74.99 against US dollar
The virus is temporarily present in the air. This does not mean that the virus is reaching everywhere and will infect everyone.
India has played a leading role in reducing the cost of medicines, especially for developing countries, said Prime Minister of the country, Narendra Modi.
In the inaugural address of India Global Week 2020, Prime Minister Narendra Modi said that the 'corona epidemic has once again shown that India's pharmaceutical industry is not only an asset to India but also to the entire world.
ALSO READ: Politicians question on Vikas Dubey, 'Arrest or planned surrender?'
Stay tuned with the newstrack to get fastest updates. Click @englishnewstrack to follow us on Facebook. and @newstrackmedia to follow on Twitter.
Keep yourself updated with latest news through Newstrack App. To download App from Google Playstore visit here - Newstrack App