Mumbai Stampede: 22 people killed, over 30 injured
Mumbai: In a Dusshera-eve tragedy, at least 22 commuters were killed and over 30 people were critically injured in a stampede that broke out on a railway footover bridge, connecting the Parel-Elphinstone Road stations of Western Railway, here on Friday.
Out of the injured, at least 20 were in critical condition. They were immediately rushed to the KEM Hospital in Parel.
The team of doctors were also stationed at the spot for providing first aid to the people who sustained minor injuries.
The incident occurred at around 1045 hours on Friday.
According to the witnesses, the footover bridge was overcrowded by the commuters as they had taken shelter and were waiting for the rain to end. Suddenly, a few commuters slipped, which led to chaos in the surging crowd.
GRP Commissioner, Niket Kaushik stated, "Of the injured, 20 people have suffered serious injuries, rest have minor injuries. Can't comment more right now."
The cause of the stampede is still being investigated.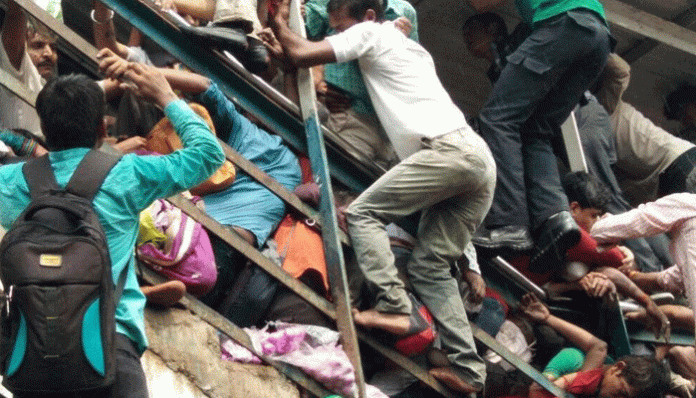 Before the rescue teams arrived, cab drivers and others helped shift the injured in taxis and on two-wheelers.
Mumbai Mayor Vishwanath Mahadeshwar, who visited the scene, said it was the responsibility of the Western Railway authorities to ensure commuters' safety.
It may be mentioned that, the tragedy occurred shortly before Railway Minister Piyush Goyal reached Mumbai on Friday to launch scores of new services for the Western Railway and Central Railway.