Cyclone Biparjoy: 500 houses damaged, 23 people injured
National Disaster Response Force director general Atul Karwal said their teams have also been sent to Karnataka, Maharashtra, and Rajasthan as heavy rains were expected there as well
Around 500 houses were damaged, 23 people injured and 800 trees uprooted after Cyclone Biparjoy made landfall while two people died before that, the chief of the National Disaster Response Force (NDRF) said on Friday.
"Two lives were lost before the landfall, which is tragic but there were no deaths after the cyclone made landfall. The 500 houses damaged are mostly hutments or non-concrete houses. There is cell phone connectivity and the number of concrete houses damaged is in single digits," said NDRF director general Atul Karwal.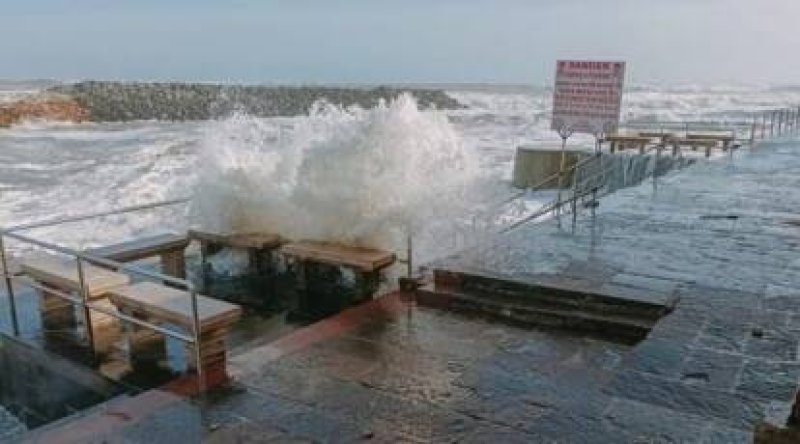 He said NDRF teams have also been sent to Karnataka, Maharashtra, and Rajasthan as heavy rains were expected there as well. "This extremely severe cyclonic storm has diluted to a severe cyclone. By ...evening, it would convert into a deep depression. We are told it is losing its force gradually. The winds are still high in Kutch...in other places, it is less than 70 km per hour. Only Rajkot received heavy rains. The roads are clear. Our teams are on the ground," he said.
The landfall process started around 6.30pm on Thursday and left a trail of destruction. Jakhau and Mandvi towns of Gujarat's Kutch bore the brunt of the storm. Temporary sheds and hoardings collapsed due to the winds. Many low-lying localities were flooded following the incessant rain.
The true damage from Biparjoy was expected to be clearer by the weekend. At Okha, a tug sank after it drifted away from the anchor. A Coast Guard vessel at Kankai jetty in Okha harbour drifted away due to the storm. A vessel reported engine trouble at the Kandla Port in Kutch and began drifting.
Officials said conditions were likely to remain bad in the affected areas until Friday morning. Heavy to extremely heavy rain was expected to continue. Very to extremely heavy rain was likely in Rajasthan on Friday and Saturday.
Gujarat's Dwarka, Okha, Naliya, Bhuj, Porbandar, and Kandla received heavy rainfall since Thursday morning.
All ports in Gujarat's Saurashtra and Kutch, including Mundra and Kandla, were shut before Biparjoy brought winds sustaining at 115 to 125 km per hour and uprooted trees and electricity poles. Around 100,000 people were moved to safer places before the cyclone made landfall.
The cyclone-hit areas were plunged into darkness, hampering communications and rescue work. The storm also decreased visibility in the region, making travel difficult. Officials said efforts were underway to restore power and clear the roads blocked by fallen trees.
Thousands of rescue workers were pressed into service after Biparjoy brought with it storm surges two to three metres high and winds that gusted up to 140 km per hour.
Biparjoy originated in the Arabian Sea. It sustained for 222 hours with winds of at least cyclone strength (62 km per hour), the longest in the history of north Indian Ocean cyclones. The cyclone underwent rapid intensification twice..
Biparjoy was the second strongest or more intense cyclone to develop over the Arabian Sea in June jointly with a 1998 cyclone clocking maximum winds of 194.4 km per hour. The strongest June cyclone in the Arabian Sea was Gonu in 2007 with a wind speed of 268.54 km per hour.
Such rapid intensification of cyclones over the Arabian Sea is unusual. Biparjoy was fuelled by extreme energy from the ocean. An unusually warm Arabian Sea and wind conditions helped nurture it for over 220 hours.
A similar unusual Arabian Sea cyclone (Tauktae) hit India's west coast in 2021 and claimed the lives of 57 people on the first day of landfall. Tauktae was a rare storm since most cyclones develop off India's east coast in the Bay of Bengal.