BHU Chief Proctor ON Singh resigns on 'moral grounds'
Varanasi: Taking moral responsibility for the incident of alleged molestation of a female student and violence, the Chief Proctor of the Banaras Hindu University (BHU), Dr. ON Singh has submitted his resignation on late Tuesday night.
University sources said that the authorities have accepted Singh's resignation and a new chief proctor will be appointed today by Vice-Chancellor Dr Girish Chandra Tripathi.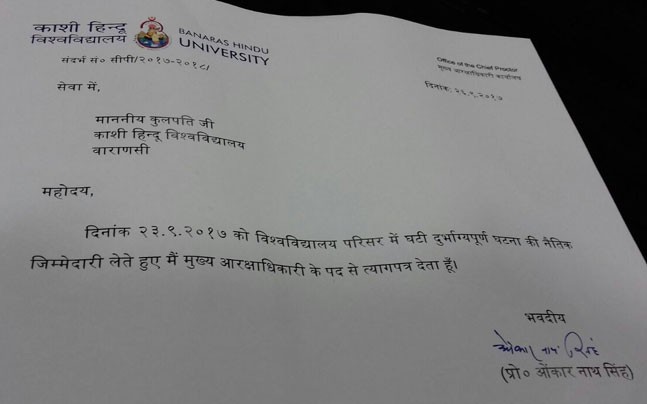 Meanwhile, professor MK Singh of BHU Medical College has been given the additional charge as the chief proctor.
It may be mentioned that Singh's resignation comes after multiple inquiries being ordered by the government, administration and BHU vice-chancellor into the violence on campus.
Uttar Pradesh Chief Minister Yogi Adityanath also has ordered for a magisterial enquiry into the incident.
A report by the Varanasi Commissioner on the violence in the BHU, submitted on Tuesday, has blamed the varsity administration for Saturday's violence and baton-charge on protesting students.
ALSO READ:
BHU Lathicharge: Yogi Adityanath orders magisterial enquiry
BHU Row: BJP believes in beating up girls, says Rahul Gandhi
In his report sent to Chief Secretary Rajiv Kumar, Varanasi Commissioner Nitin Gokarn has said that Banaras Hindu University (BHU) did not deal with the victim's complaint in a sensitive manner and failed to handle the situation on time.
According to the report, the biggest fault in this case is that of the administration and such a controversy would not have taken place had they handled the matter appropriately.