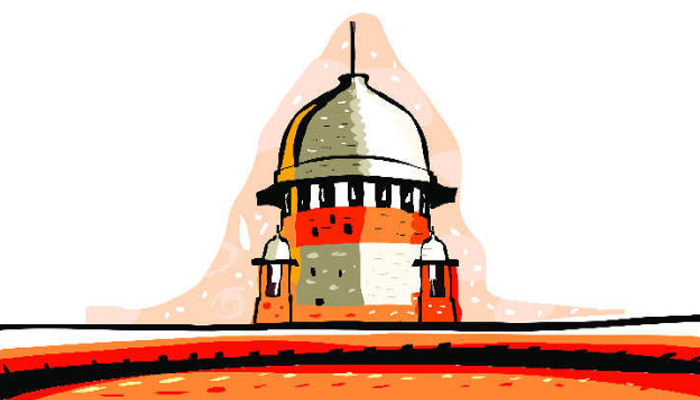 New Delhi: The Supreme Court on Saturday paved the way for the construction of Ram Temple by a Trust at the disputed site at Ayodhya, and directed the Centre to allot an alternative 5-acre plot to the Sunni Waqf Board for building a new mosque at a "prominent" place in the holy town in Uttar Pradesh.
ALSO READ: Will declare strategy if no one else forms govt: Raut
A bench headed by Chief Justice Ranjan Gogoi has delivered its verdict in 1045 pages. However, the name of the author who wrote the verdict was not disclosed. Usually, in any decision, the name of the judge writing it on behalf of the bench is mentioned.
But this time the Supreme Court broke the tradition and did not name the judge who wrote the judgment. The five-judge constitution bench heard the Ayodhya case. It consisted of Chief Justice Ranjan Gogoi, Justice SA Bobde, Justice DY Chandrachud, Justice Ashok Bhushan and Justice Abdul Nazir.
ALSO READ: Maha Guv asks Fadnavis to prove majority tomorrow, BJP's meeting today
Earlier there has been no such incident in the decisions of the present time, when the Supreme Court has not named the author of the Judgment in any decision. People are expressing surprise on social media as well.
Bench examined the facts separately for addenda
A major point of the judgment is that 116 pages have been added to the addenda (appendix) next to 929 pages. These include arguments and details related to the disputed site being the birthplace of Lord Rama. The name of the author is ​​also not given in the appendix.
ALSO READ: Raut refers to Hitler to fire fresh salvo at Devendra Fadnavis
The last paragraph of page 929 reads, "Even after one of us has agreed with the above arguments and instructions, we have handled a different argument on this – Is the disputed structure based on Hindu faith and belief of Lord Rama birthplace? The arguments related to this are placed in the addenda."
What does addenda says?
The judge, who wrote a 116-page appendix, quoted different ancient writings and scriptures, stating, "There existed enough religious texts in the period before 1528, due to which Hindus considered the present site of Ayodhya land dispute to be the birthplace of Lord Rama."
Keep yourself updated with latest news through Newstrack App. To download App from Google Playstore visit here - Newstrack App