PETN Explosive in UP Assembly: NIA-ATS begin probe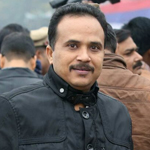 Sharib Jafri
Lucknow: A major security lapse came to the fore on Friday when a PETN (Pentaerythritol Tetranitrate) explosive was recovered near the chair of Leader of Opposition Ram Govind Chaudhary inside the Uttar Pradesh Assembly.
After finding the explosive inside the state assembly, the probe of the matter has been handed over to the National Investigation Agency (NIA). It may be mentioned that PETN is rated among the five deadliest explosives across the world.
The initial probe has already been launched by the NIA team which reached at the assembly along with Anti-Terrorism Squad (ATS).
The biggest trouble for the investigating agencies would be unavailability of any video footage despite presence of CCTV cameras. It happened because the cameras installed there are only put on during the proceedings of the house.
The NIA officials tried to identify the explosive-planter with the help of CCTV footage but could not find anything. The probing team currently does not have any clue about the culprit, as when the CCTV started, it showed former UP cabinet minister and Samajwadi Party legislator Manoj Pandey sitting near the bomb.
Also Read: PETN explosive found inside UP assembly | CM calls high-level meeting
Who can enter the Vidhan Sabha?
Apart from the state legislators, only cleaners, Martials and protocol officers can enter the premises. Security officials in civilian dress are always posted in the gallery which is the only way to reach inside the house where the assembly proceedings take place. Even the security personnel are not allowed to enter the house.
After the cleaning and a thorough checking, the legislators start entering the assembly and CCTV cameras are put on. Earlier, when some legislators created ruckus inside the house, only Marshals were called to take them out of the assembly.
The Uttar Pradesh Vidhan Sabha canteen is being run by a private contractor, who was given the charge by the previous Akhilesh Yadav-led Samajwadi Party government. Since then, the MLAs have been complaining about the poor quality of food and increase in prices.