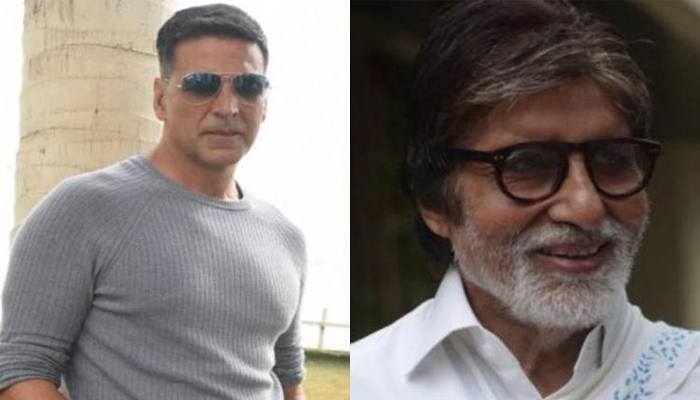 From Akshay Kumar To Big B, Celebs Extend Greetings on Hindi Diwas (Social Media)
Hindi Diwas is celebrated on September 14 every year to celebrate the language and to commemorate the event when it was adopted as one of the official languages of India. Interestingly, while India is known to be a nation which has been blessed with varied languages, Hindi is one language that binds everyone together in the country. So, on this special day, the social media was flooded with posts celebrating Hindi Diwas.
ALSO READ: Kundali Bhagya Actor Sanjay Gagnani Tests Positive for Coronavirus
B-Town:
In fact, several celebrities also took to social media to send wishes to the fans on the occasion of Hindi Diwas. Akshay Kumar tweeted in hindi, "My parents always taught me to always respect the language in which you think and dream. For me, that language is Hindi. My dreams in life came true only through Hindi films. I am proud to be able to express my thoughts in Hindi. #Hindi day wishes"
मेरे माता पिता ने मुझे हमेशा सिखाया कि उस भाषा का सदा सम्मान करो जिसमें तुम सोचते हो और सपने देखते हो। मेरे लिए वो भाषा हिंदी है। जीवन में मेरे सपने हिंदी फ़िल्मों के माध्यम से ही सच हुए। हिंदी में अपने विचारों को अभिव्यक्त कर पाने पर मुझे गर्व है। #हिंदी_दिवस की शुभकामनाएँ 🙏🏻

— Akshay Kumar (@akshaykumar) September 14, 2020
On the other hand, Randeep Hooda shared a pic of bunch of books on microblogging site Twitter.
सिर्फ़ हिंदी की हिंदी मत करो,
कुछ पढ़ा, कुछ लिखा भी करो ।। #हिंदी_दिवस #HindiDiwas2020 pic.twitter.com/hFy77AyH39

— Randeep Hooda (@RandeepHooda) September 14, 2020
ALSO READ: Fukrey 3 script ready, Varun Sharma Expresses Excitement To Start Filming
Veteran actor Dharmendra also shared a clip of a scene from his iconic movie Chupke Chupke and wrote, "Har Bhash se mohabbat hai ….. आप के धर्म  ने हिंदी का भी जी भर के आनंद लिया".
Har Bhash se mohabbat hai ….. आप के धर्म ने हिंदी का भी जी भर के आनंद लिया 🙏 pic.twitter.com/g51LmaQTsz

— Dharmendra Deol (@aapkadharam) September 14, 2020
Meanwhile, Amitabh Bachchan also tweeted.
T 3659 – आज 'हिंदी दिवस' पे अनेक अनेक शुभकामनाएँ !
भारत के कोने कोने में विभिन्न भाषाएँ हैं और सब की सब प्रबल हैं और सबका अपना अपना प्रबल स्थान है ! 🙏
सारे जहां से अच्छा हिंदुस्तान हमारा ! 🇮🇳🇮🇳🇮🇳🇮🇳🇮🇳🇮🇳🇮🇳

— Amitabh Bachchan (@SrBachchan) September 14, 2020
ALSO READ: Hindi Diwas 2020: Celebrate the official language of India
हिंदी दिवस पर सभी हिंदी भाषी और हिंदी को प्रेम करने वालों को हार्दिक शुभकामनाएँ !!! 🙏🙏🌟🌟🌈

— manoj bajpayee (@BajpayeeManoj) September 14, 2020
आप सभी को हिन्दी दिवस की हार्दिक शुभकामनाएँ। जय हिन्द। 🙏 #हिंदीदिवस #हिंदी pic.twitter.com/IYfOMt7hGo

— Anupam Kher (@AnupamPKher) September 14, 2020
Stay tuned with the newstrack to get fastest updates.
Click @englishnewstrack to follow us on Facebook.
and @newstrackmedia to follow on Twitter.
Keep yourself updated with latest news through Newstrack App. To download App from Google Playstore visit here - Newstrack App