Election Results: This is the victory of people's hope and aspirations, says Modi
Addressing  a gathering here, PM Modi said, "We had gone to people seeking mandate to build a new India. People have given us their blessings for it. People have vindicated my view that this election was fought by them and not by parties."
News Delhi: On receiving a historical mandate for the Bharatiya Janata Party, Prime Minister Narendra Modi, on Thursday, said that it is not Modi's victory, but a win of people's hope and aspirations. The ecstatic PM said that there will be only two castes in the country -- the poor and those contributing to alleviate poverty.
Addressing a gathering here, PM Modi said, "We had gone to people seeking mandate to build a new India. People have given us their blessings for it. People have vindicated my view that this election was fought by them and not by parties."
He said, "This is highest voter turnout Indian has seen. World will have to recognise India's democratic strength."
He added, "We were not disappointed when we won only 2 seats; we will not leave our humility, ideals and values when we have come back to power. No political party dared to wear a mask of secularism to mislead people in this election. This was the first election where price rise and corruption were not issues."
The spirit of our democracy and constitution gives us the responsibility to run country by taking everyone along. I will not do anything with bad intentions, I will not do anything for myself. We have to look ahead and take everybody along including our rivals.
The fate of the largest democracy of the world has been decided for the next 5-years as the counting of vote is taking place for the General elections 2019 that was held in seven phases from 11 April to 19 May 2019.
The Election Commission of India started counting of votes today (23 May, Thursday) at 8 am, and will announce the results on the same day. Since the Election Commission will also be counting the VVPATs at five polling stations (selected at random) in all Assembly segments, the final results can take a little longer to come out.
ALSO READ: Cong terms EC 'Enfeebled Commission', says it is black day for democracy
The elections were held in 542 constituencies out of the total 543 Parliamentary seats, as the Election Commission had cancelled polls to the Vellore seat in Tamil Nadu on the grounds of excessive use of money power. The fresh date for elections in Vellore is yet to be announced.
LIVE UPDATES:
- Sadhvi Pragya humbles Digvijay in Bhopal with huge margin.
- Mulayam Singh Yadav wins Mainpuri seat.
- Union Minister Manoj Sinha loses to BSP's Afzal Ansari.
- In his maiden Lok Sabha poll, Prasad defeats 'shotgun'; wins Patna Sahib seat.
- Bhojpuri singer-actor Manoj Tiwari retains North East Delhi seat comfortably.
-
- Pakistan Prime Minister Imran Khan on Thurday took to his tweeter handle to congratulate Narendra Modi on his massive electoral victory and wishes to work with Indian PM for peace, progress and prosperity.
-Congress president Rahul gandhi produces his resignation from the post to UPA chairperson Sonia Gandhi as per sources.
-Rahul Gandhi addresses a press conference with congress leader Randeep Surjewala, and wishes PM Modi best wishes for his electoral win and says his fight is the ideology
-Pakistan PM Imran Khan congratulated the Prime Minister of India Narendra Modi for his party heading towards a massive win.
I congratulate Prime Minister Modi on the electoral victory of BJP and allies. Look forward to working with him for peace, progress and prosperity in South Asia

— Imran Khan (@ImranKhanPTI) May 23, 2019
-Smriti Irani leading by 24,000 votes in Amethi.
-Modi took to his twitter account to thank his fellow Indians for his massive poll results.
Thank you India! The faith placed in our alliance is humbling and gives us strength to work even harder to fulfil people's aspirations.

I salute every BJP Karyakarta for their determination, perseverance & hardwork. They went home to home, elaborating on our development agenda.

— Chowkidar Narendra Modi (@narendramodi) May 23, 2019
-NDA is currently leading at 340 seat, UPA at 96, and others at 106.
-Modi to reach BJP headquarters at 5:30pm to participate in BJP's parliamentary meeting.
-PM Modi congratulated incumbent Odisha Chief Minister Naveen Patnaik who is set to return as CM for 5th consecutive term.
-Bjp has won 5 seats so far, says EC.
-Amit Shah leading by 5,54,564 votes from Gandhinagar.
- Japanese PM Shinzō Abe congratulates PM Narendra Modi in a telephonic conversation.
- China's Xi Jinping congratulates Prime Minister Narendra Modi.
- Congress president Rahul Gandhi wins Wayanad seat.
-Israeli Prime Minister Benjamin Netanyahu congratulates Prime Minister says, "will continue to strengthen our friendship between India and Israel."
Congratulations, my friend @Narendramodi, on your impressive election victory! The election results further reaffirm your leadership of the world's largest democracy. Together we will continue to strengthen the great friendship between India & Israel.

Well done, my friend! 🇮🇱🤝🇮🇳 https://t.co/2U5yJmHddS

— PM of Israel (@IsraeliPM) May 23, 2019
-Congress leader Jyotirao scindia trails behind in Guna by 62,000 votes.
-Congress senior leader Shashi Tharoor leading from Thiruvananthapuram, Kerala by over 13,000 votes.
-Rahul Gandhi lags behind Smiriti Irani in Amethi, Irani leading with 7,600 votes.
-The Bharatiya Janata Party (BJP) is currently taking the lead in the two Lok Sabha constituencies of Arunachal Pradesh, as per the initial trends of the Election Commission.
-PM Modi's mother greets media outside her home in Gandhinagar, Gujurat.
Gujarat: Prime Minister Narendra Modi's mother Heeraben Modi greets the media outside her residence in Gandhinagar. pic.twitter.com/yR2Zi9eeL1

— ANI (@ANI) May 23, 2019
-BJP leads in 23 seats, leaving ruling Cong-JDS alliance way.
-Congress leader Jyotirao scindia in Guna leading by 18000 votes.
-Rahul Gandhi leads with 1,00,000 votes from Wayanad.
-Giriraj Singh leading by 63,000 votes in Begusaray his opposition Kanhaya Kumar slips on second spot .
-Amit Shah leading by 1,25,000 votes in Gandhinagar .
-TRS leads in 11, BJP in 2 in LS polls in Telangana
-Chhattisgarh: BJP leading on 9 seats, Congress leading on 2 seats; total seats 11
-BJP-Shiv Sena leading on all six seats of Mumbai
-Karnataka: BJP workers celebrating outside BJP office in Bengaluru.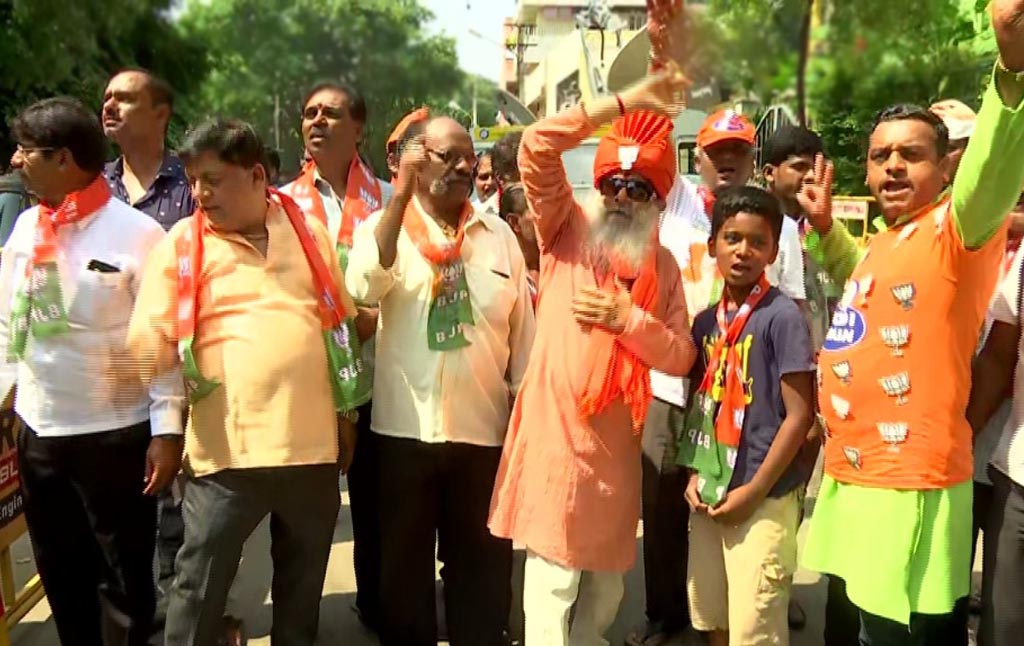 -BJP leading on 7 seats, according to EC official trends
-BJP Chief Amit Shah leading by over 1,15,000 votes from Gujarat's Gandhinagar.
-Modi leading by over 20,000 votes from UP's Varanasi
-Smriti Irani leads with 6000 votes in Amethi
-Sakshi Maharaj from Unnao leads as per EC early trends.
-Rahul leading by over 10,000 votes in Wayanad
-BJP candidate and Union Minister Maneka Gandhi trailing from Sultanpur.
-Sonia Gandhi leading from Rae Bareli.
-Varun Gandhi leading from Pilibhit.
If exit polls are to be believed the destiny is in the favour of Bhartiya Janata Party (BJP)-led National Democratic Alliance (NDA). Hence, once again giving a chance to the ruling party at the Centre to retain power for a second term. Prime Minister Narendra Modi seems very positive about his victory with Modi wave and may come to power the way he came in 2014.
However, the Opposition parties, including Congress, have trashed exit poll results and claimed that people of India will make BJP bite the dust as it failed to address problem of rising unemployment, farm distress and slowdown in the economy.
In the 2014 elections, the BJP won 282 seats while the Congress had suffered a severe drubbing, getting an all-time low of 44 seats as against 206 it won in 2009.
The crucial states for the party are Uttar Pradesh, West Bengal and Odisha. In UP, there's a fierce contest between with the Mahagathbandhan of SP, BSP and RLD. In Bengal and Odisha, the party hopes to consolidate its position. By its own assessment, its candidates have performed well here.
ALSO READ: Congress slams PM Narendra Modi government over 'pro-Pak policy'