Egypt: 28 killed in attack on Coptic Christians bus
Cairo: At least 28 persons were killed and over 20 injured in a shooting attack on a bus carrying Coptic Christians in a central Egyptian town, the Ministry of Interior said in a statement.
The attack took place in the town of al-Adwa, about 80 km (49 miles) northwest of the city of Minya as the worshippers were traveling to the monastery of Saint Samuel, Efe news reported.
Ten armed men in four cars surrounded the bus and began to shoot arbitrarily as the vehicle neared al-Adwa on the way to the monastery, the statement added.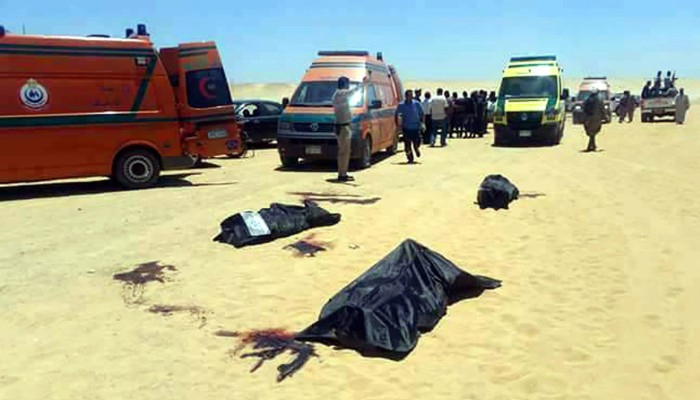 The death toll could increase further due to the number of people injured.
The wounded were transferred, according to the spokesman, to three hospitals while police have imposed a security cordon in the area and doubled their efforts to find the assailants.
ALSO READ: G7 leaders sign anti-terrorism statement
So far, no group has assumed responsibility for the attack.
In a statement, the Coptic Church sad that it shares with the whole country the pain caused by this attack, which has targeted the heart of Egypt and its national unity.
The note added that those responsible should be detained as soon as possible and that the church hopes to take the necessary measures to avoid the dangers of such events, which harm the image of Egypt and cause great pain to Egyptians.
Also read: Donald Trump to seek Supreme Court review on travel ban
The Coptic Christian minority in Egypt has been the victim of numerous attacks in recent months, as on Palm Sunday, April 9, the Islamic State terror organization claimed responsibility for the two attacks on the cathedrals of St. George in the city of Tanta (on the Nile Delta), and San Marcos in Alexandria (Mediterranean coast), in which 46 people died.
Likewise, on Decemebr 11, an extremist affiliated to the IS detonated himself inside a church located next to the Coptic cathedral in the capital Cairo, and killed about 30 Christians, most of them women and girls.
With IANS inputs