Brazilian army and Federal Police destroy 4,000 guns
Rio De Janeiro: The Brazilian army and Federal Police, on Friday, destroyed some 4,000 guns seized from criminals or handed over by residents of Rio de Janeiro's Deodoro neighbourhood.
A steamroller crushed handguns, rifles, and ammunition arrayed across 15 meters (49 ft) of pavement at an army maintenance and supply depot.
Soldiers then collected the smashed weapons, which are to be melted down, Federal Police inspector Marcelo Daemon told reporters.
Most of the guns destroyed were seized in 2016. Firearms suitable for use by the security forces were saved, while the remainder were earmarked for destruction, the inspector said.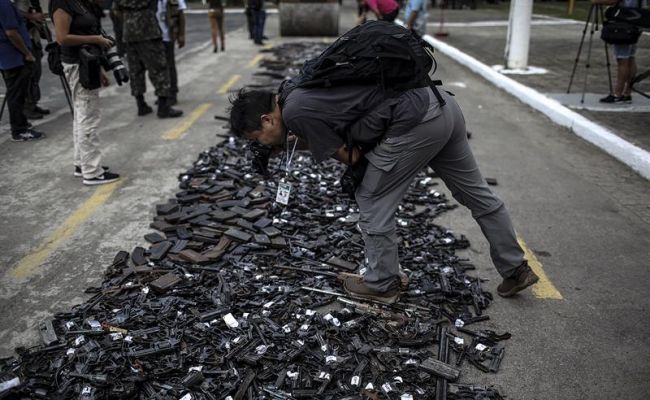 The actual number of guns seized "is much greater" than the amount demolished on Friday, Daemon said.
"We ask the population to help us in this task, because it is a task that favours everybody," he said.
The demolition came a day after authorities at Rio's international airport intercepted a cargo of 70 rifles valued at $1.3 million.
Shipped from Miami, the guns were apparently intended for the Brazilian black market, police said.