Bizarre | Monkey-faced piglet born in Western Cuba
Havana: A dark-skinned piglet with a face similar to that of a monkey was born last week in a Cuban town, according to a state media report.
The piglet was born in San Juan y Martinez, Pinar del Rio province, and its owners called the area's veterinarian a day later to have the unusual animal examined, the official Cubadebate website report said on Sunday.
The veterinarian was surprised by the piglet's features, but she found that the animal responded pretty positively during an examination and is nursing.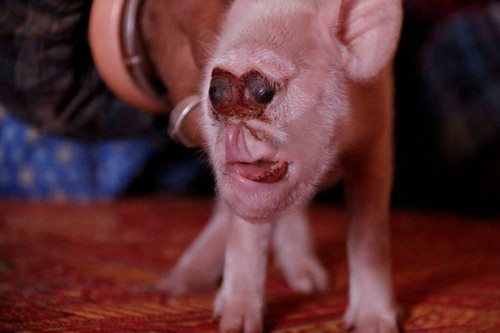 The piglet, however, appears to suffer from some lack of motor coordination, the veterinarian told Cubadebate.
Photographs and videos posted on Cubadebate show the small animal nestled among its pink siblings, nursing and being cared for by its mother.
The piglet has a long jaw, large nostrils and a simian-like protuberance over its eyes, which are close together.
with IANS inputs....