Ruling Awami party leader in B'desh apologises to Tarushi's kin
Dhaka: Leader of Bangladesh's ruling Awami League party Imtiyaz Khan has apologised to kins of Indian girl Tarushi who was killed here in recent terrorist attack.
He has asked for forgiveness because the leader's son Rohan was one of the terrorists who was killed along with others in the police operation .
The leader said his son went missing a week before the attack and that he had filed a report in this connection on July 4.
According to a leading national daily a senior police officer in Bangladesh Police has confirmed that a warning about the possible attack by Islamic State was sent by the Indian Investigative Agencies to the Bangladesh government.
Tarishi's friend was also a terrorist, claims Bangladesh newspaper:
A leading newspaper in Bangladesh, 'Dainik Nirpekho', has published that Faraz, a friend of Tarishi was also among the terrorists.

The newspaper had earlier reported that the terrorists had asked Faraz to leave the café but he refused saying that he would go nowhere without his friends Tarishi and Ambita Kabir.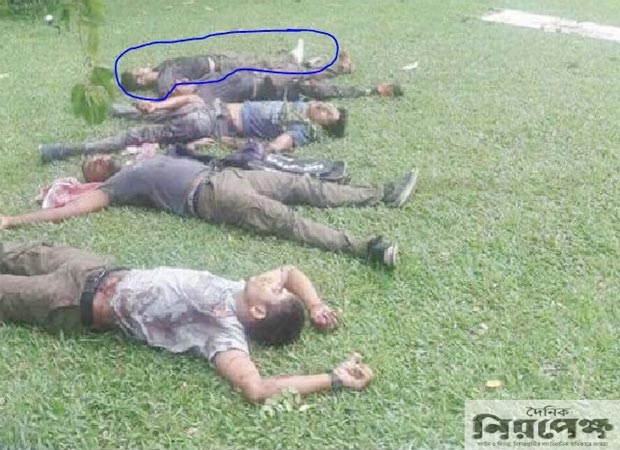 Faraz in blue circle, killed in encounter with Dhaka police
The evidences given by the newspaper to support the report :
A picture of Faraz was published by the newspaper with one of the terrorist, Nibras, claiming that Faraz had also been the part of the terrorist group who attacked the Holey Artisan Café of Dhaka.

Another picture of encountered terrorists was released in which a boy wearing a white shoe was spotted as Faraz.
Who was Faraz:
Faraz was the grandson of the Chairman of Transcom group Latiphur Rahman.

He was studying in United States of America with Tarishi and Ambita Kabir and had a good friendship with them.
The video that claims Faraz to a terrorist: