UP civic polls: CM Yogi Adityanath casts vote in Gorakhpur
Lucknow: Voting for the first phase of local body election in Uttar Pradesh began at 0730 hours in 24 districts on Wednesday. UP Chief Minister Yogi Adityanath also casted his vote, at a polling booth in Gorakhpur, early morning.
After casting his vote, the UP CM stated that he was confident of sweeping polls in Uttar Pradesh. He said, people are supporting BJP in UP.
Live Updates:
Vote percentages in the districts till 1200 hours

Hardoi 29.9

Gopamau 34.92

Bilgram 30.72

Mallawa 31.34

Sandi 27.19

Madhoganj 27.62

Kursath 30.24

Shahabad 25.43

Pihani 32.13

Sandila 23.45

Kachhauna 22.25

Beniganj 28.26

Pali 33.57

Meerut municipal corporation records 10 per cent voting, while 7.7 per cent voting in Gorakhpur and 15 per cent was recorded in Agra municipal corporations.

Police lathi charged at voters in Kanpur as they made major chaos at the polling booths.

Voting resumes in Mani Ram Bagia Ward number 104's three booths were there was technical glitch in EVMs.

9 per cent voting recorded in first two hours in Kanpur.
The polling is to be held in three phases. The first phase of the voting took place today while the second and third phase will be held on November 26 and November 29 respectively.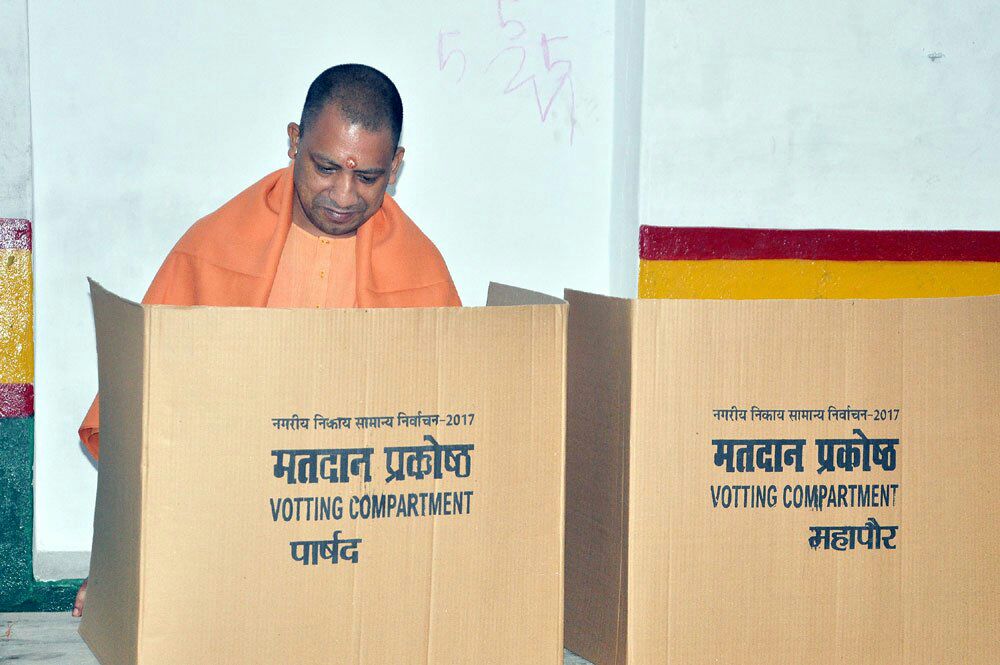 UP Civic Polls at a Glance:
The first phase polling is being held for five municipal corporations namely Gorakhpur, Kanpur, Meerut, Agra and Ayodhya, 71 'nagar palika parishads' and 154 'nagar panchayats'. An estimated 1.09 crore voters are expected to exercise their franchise at 11,679 booths in this phase.
Districts where the first phase of voting is taking place:
Shamli, Meerut, Hapur, Bijnore, Badaun, Hathras, Kasganj, Agra, Kanpur, Jalaun, Hamirpur, Chitrakoot, Kaushambi, Pratapgarh, Unnao, Hardoi, Amethi, Faizabad, Gonda, Basti, Gorakhpur, Azamgarh, Ghazipur and Sonebhadra.
According to the political analysts, the civic body polls have become the first test of CM Yogi's popularity, eight months after he took charge of the office. The polls are also important for the ruling BJP as the results will be announced on December 1, eight days before the phase 1 of assembly elections in Gujarat. A win for the saffron party in UP could be a game changer for them in Gujarat as well.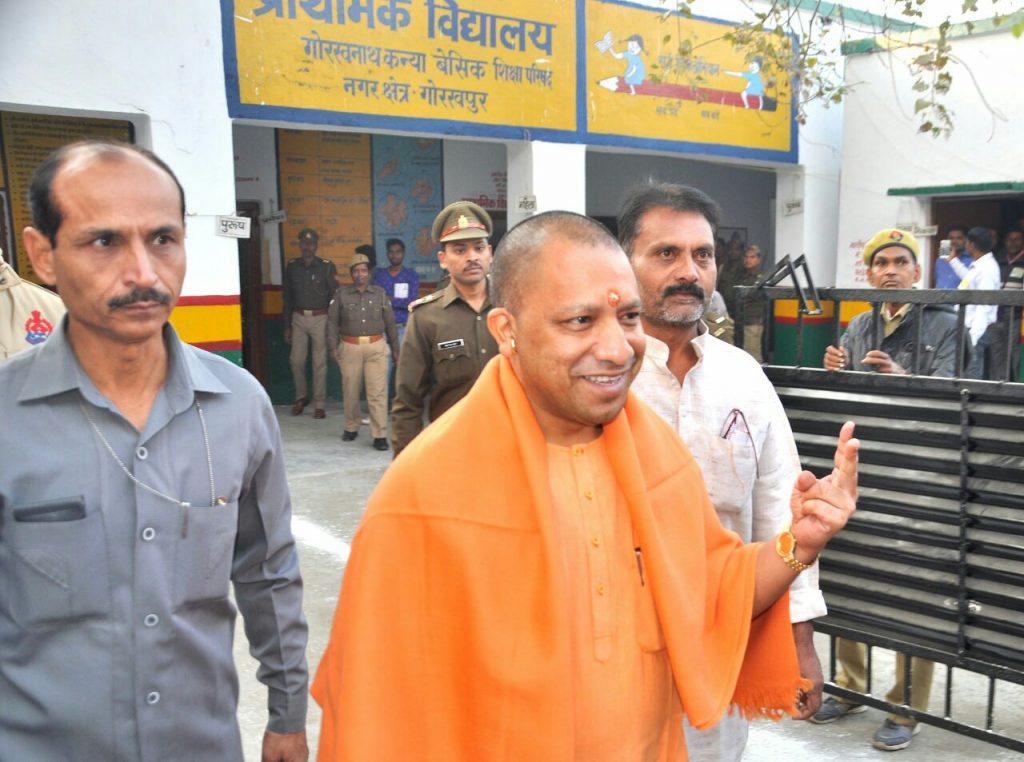 Also Read: Kerala High Court overrules I&B, says screen S Durga at IFFI
16 Nagar Nigams for which the voting will take place are in all the phases:
Aligarh Municipal Corporation, Agra Municipal Corporation, Allahabad Municipal Corporation, Ayodhya Municipal Corporation, Mathura-Vrindavan Municipal Corporation, Jhansi Municipal Corporation, Kanpur Municipal Corporation, Lucknow Municipal Corporation, Varanasi Municipal Corporation, Unnao Municipal Corporation, Meerut Municipal Corporation, Ghaziabad Municipal Corporation, Bareilly Municipal Corporation, Gorakhpur Municipal Corporation, Saharanpur Municipal Corporation, Moradabad Municipal Corporation.