PM Modi inaugurates various development projects in Varanasi
Constructed by the National Highway Authority of India (NHAI) under Bharatmala programme, the 16.55 km Varanasi Ring Road Phase-I has been completed at a cost of Rs 759.36 crore.
Varanasi: Prime Minister Narendra Modi arrives Varanasi and gifted two national highways and an inland waterways project to people at his parliamentary constituency. He inaugurated 1st Multi-Modal Terminal on Ganga River here.
The project was unveiled by the PM, along with Union Transport Minister Nitin Gadkari. The project received India's first container vessel that sailed from Kolkata on the inland waterway on October 30, carrying cargo belonging to food and beverage giant PepsiCo India.
UP CM Yogi Adityanath thanked PM Modi for infrastructure projects. He said, "On behalf of 23 cr people of UP, I thank PM Modi for launching First mmt of the country."
https://youtu.be/16pWrf4is5k
Here are the LIVE updates:
- Years back, when I proposed the project of connecting Halida, I was mocked at. But just a few hours back, critics from Kolkata got their answer: PM Modi
- Today is an iconic day in the history of India. Varanasi deserved the projects that were inaugurated today, decades ago.
- The decision to use water as a mean of transport was taken in 1986 but no work was properly started before Modi ji became the PM in 2014: Nitin Gadkari
- This year we will transport 80 lakh tonne of cargo: Nitin Gadkari
- After this, within 1-2 years, 270 lakh tonnes of transport will be through the Ganga. If it takes Rs 10 to travel through road, Rs 6 through railways, then to go through water it will take Rs 1: Nitin Gadkari
- PM Narendra Modi inaugurates two highways- Ring Road and Babatpur Airport Road in Varanasi.
- PM Modi arrives at a gathering in Wajidpur.
- PM Modi said, "There was Highways, Airways and Railways, now we have Waterways."
- PM Modi unveils huge inland port in Varanasi. It will connect to India's Waterway-I
- The multi-modal terminal is a part of the Central government's Jal Marg Vikas Project (JMVP). The project aims the development of the stretch between river Ganga and Varanasi for the navigation of large vessels.
- Prime Minister Narendra Modi inaugurates the first multi modal terminal constructed on River Ganga.
- UPCM Yogi Adityanath and Union Minister Nitin Gadkari also present.
- Uttar Pradesh Chief Minister Yogi Adityanath received him.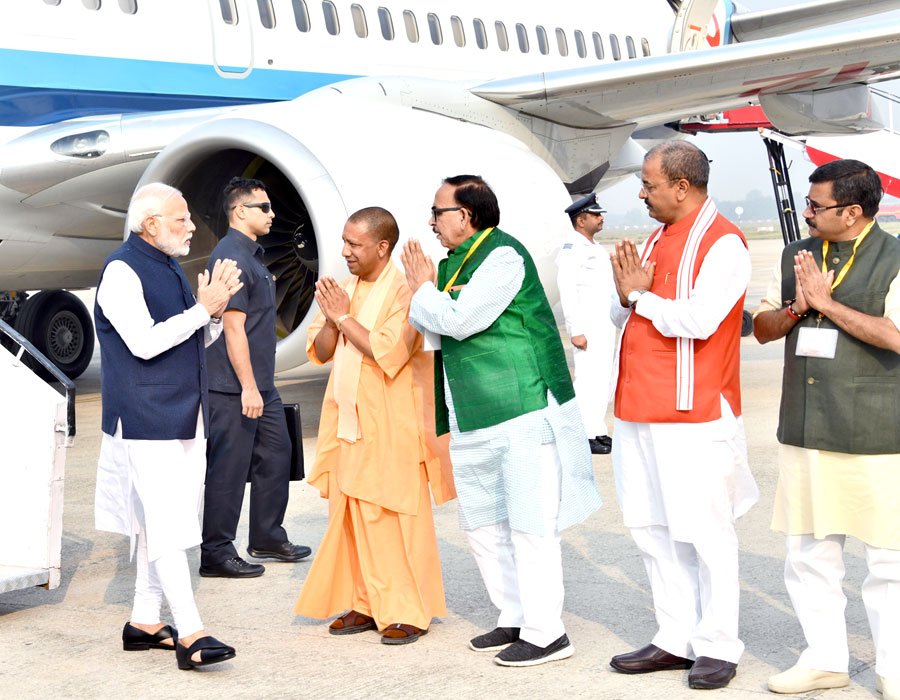 PM Modi inaugurated several projects costing 2413 crores including two national highways to the people. He also dedicated a inland multi modal terminal port constructed at the cost of rupees 207 crores on river Ganga here at Ramnagar.
ALSO READ: Ananth Kumar passes away; National Flag hast mast in his honour
Constructed by the National Highway Authority of India (NHAI) under Bharatmala programme, the 16.55 km Varanasi Ring Road Phase-I has been completed at a cost of Rs 759.36 crore. The four-laning and construction of 17.25 km Babatpur-Varanasi road on NH-56 has costed Rs 812.59 crore.
ALSO READ: Indian women are healthier, living longer than the rest of the world
The Babatpur Airport highway will connect commuters travelling to and from Jaunpur, Sultanpur and Lucknow.
The Ring Road, with two Road Over Bridges and a flyover, will provide a way for traffic on NH 56 (Lucknow-Varanasi), NH 233 (Azamgarh-Varanasi), NH 29 (Gorakhpur-Varanasi) and Ayodhya-Varanasi highways to bypass Varanasi city, thereby reducing traffic congestion in the city.
He will also dedicate three important sewage disposal system projects that will change the face and shape of the town making it cleaner and healthier. PM Modi is slated to hold a roadshow on newly constructed Babatpur highway.
This is Modi's 15th visit to Varanasi.
About Multi-Modal Terminal on River Ganga:
The Multi-Modal Terminal project on River Ganga was started in June 2016 and holds the terminal capacity of 1.26 MPTA. The terminal project in Varanasi is built at a cost of Rs 206 crores. The Jal Marg Vikas project (JMVP) is being implemented with the technical assistance and investment support of the World Bank, at an estimated cost of Rs. 5,369 crores on a 50:50 sharing basis between Government of India and the World Bank.
ALSO READ: Bilaspur: PM Modi attacks Rahul, Sonia over demonetisation
Before leaving for his constituency, PM also held a rally in Bilaspur.
It is to be mentioned that Bilaspur is among the 72 seats that will see polling in Phase-2 on November 20 while 18 seats in Bastar and Rajnandangaon will poll in Phase-1 on Monday.