BSP supremo Mayawati gets legal notice for supporting Mukhtar Ansari
Mukhtar has been a member of Bahujan Samaj Party before forming his own Quami Ekta Dal. Ansari had to turn towards the BSP again after the Samajwadi Party called off the merger with QMD considering the criminal background of the party chief
Lucknow: Supporting the Quami Ekta Dal chief Mukhtar Ansari and declaring him an assembly candidate of Bahujan Samaj Party could prove costly for BSP supremo Mayawati.
The BSP chief has been sent a legal notice from a resident of Mau district Ashok Singh asking her to take back her words in support of the Indian Mafia-don turned politician .
The notice says that if Mayawati does not revokes her statement, it would be treated as 'Contempt of court' and a case would be filed against her. "Your speech regarding Mukhtar Ansari is not only against the model code of conduct but also committed contempt of court by scandalising the pending court proceedings in criminal cases against the accused," stated the notice.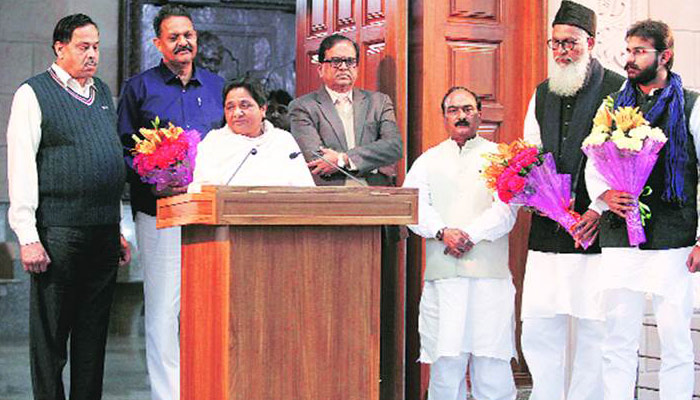 The notice further says that Mayawati should tender an apology immediately and take back the aforesaid speech.
It could be mentioned that Singh is a key witness in two of the pending cases against the criminal-turned politician Ansari.
Mayawati had announced the candidature of Quami Ekta Dal chief Mukhtar Ansari, his brother Sibakatullah Ansari and his son Abbas Ansari for the UP Assembly elections right after inducting them in the party fold on Thursday last. Mukhtar was given the BSP ticket from Mau Sadar constituency, while his brother Sibakatullah and son Abbas were given party tickets from Mohammadabad and Ghosi seats, respectively.
In next slide:

Picture of the notice and what Mayawati had said earlier regarding Mukhtar Ansari...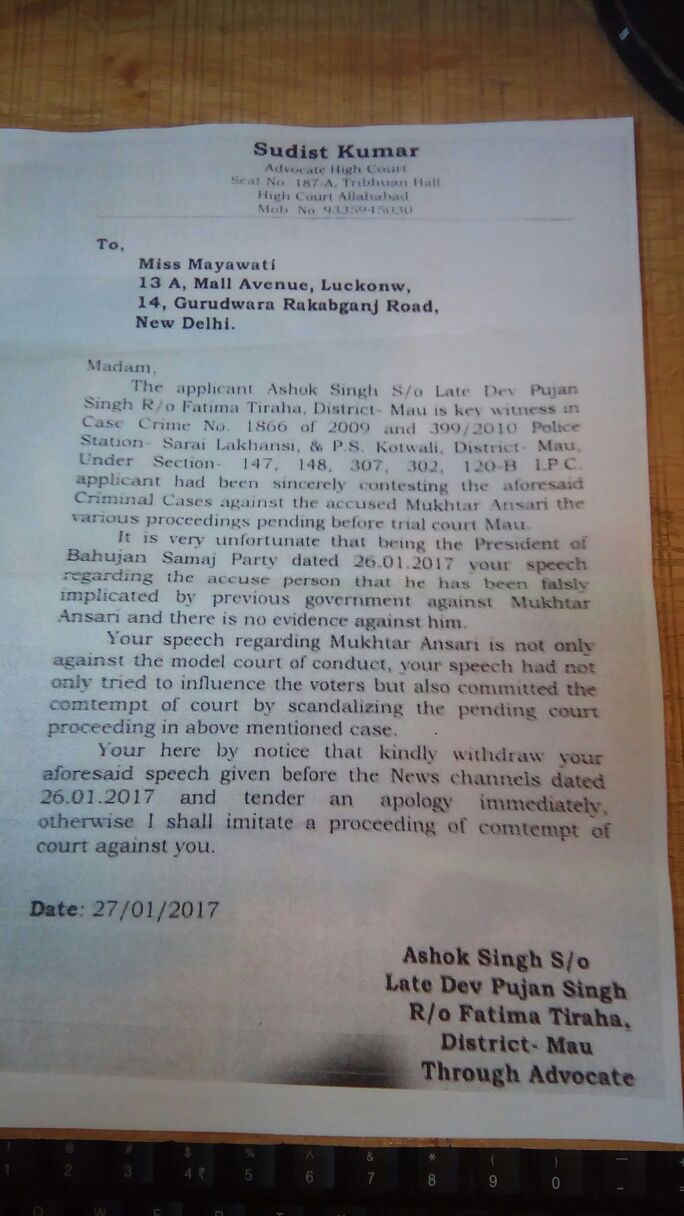 What Mayawati had said:
Mukhtar was a victim of political vendetta and a conspiracy hatched by the Samajwadi Party (SP).

Ansari is the current MLA from the constituency of Mau Sadar the BSP will field him in the upcoming Uttar Pradesh Assembly elections from the same seat.
Mukhtar has been a member of Bahujan Samaj Party before forming his own Quami Ekta Dal. Ansari had to turn towards the BSP again after the Samajwadi Party called off the merger with QMD considering the criminal background of the party chief.